Market sentiment has improved after upbeat earnings reports.
US Industrial production came in higher than expected at 0.4%.
Investors expect UK inflation data to determine the BoE's next rate hike.
E-mini Nasdaq-100 (NQ) futures prices closed higher, and Treasury yields decreased on Tuesday due to encouraging earnings and better-than-anticipated US industrial data.
"The market was a bit oversold leading into Monday, and people were worried about what would happen over the weekend. People walked into the week feeling a little better," said Robert Pavlik, senior portfolio manager at Dakota Wealth in Fairfield, Conn. "You're getting a combination of short covering and fear of missing out."
Goldman Sachs Group Inc., Johnson & Johnson, and Lockheed Martin's better-than-anticipated quarterly results set the tone. Strong industrial output figures showed signals of economic resilience even as central banks tightened monetary policy to combat inflation.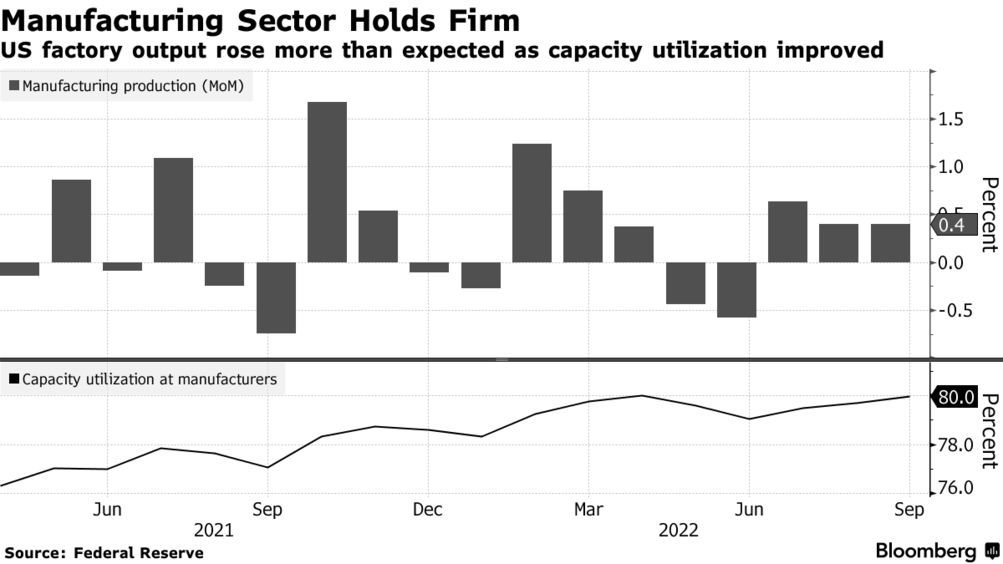 Despite the Federal Reserve's efforts to restrain demand, production at US manufacturers increased in September, driven by increases in both outputs of durable and nondurable items. The Federal Reserve reported Tuesday that manufacturing production increased by 0.4% in September. Economists had expected manufacturing production to increase by 0.2%. Production grew 4.7% from the previous year.
Shares of Netflix Inc. rose 14% after the company reversed user losses that had hurt its price this year and forecasted more growth. After a sharp decrease in the first half of the year, when the company's subscriber base fell by 1.2 million due to a shaky global economy and increasing competition for online video watchers, the streaming powerhouse is attempting to restart membership growth.
Elsewhere, the United Kingdom, rocked by a historic crisis in the government bond market, will release its September inflation figures later in the day. Last month's annual inflation was probably in the double digits of 10%.
This would probably put greater pressure on the Bank of England to increase interest rates. The BoE said throughout the night that it would begin selling a portion of its enormous stock of British government bonds on November 1 but would not sell any longer-duration gilts this year.
"Amid rapidly fluctuating views/market price on what the Bank of England will decide to do with rates on November 2, a key data point of reference will be today's September UK inflation data," said Ray Attrill, head of FX strategy, at National Australia Bank.