Higher interest rates are affecting corporate America.
Recession worries are rising as the Fed further tightens its monetary policy.
Fed rate increases have had little impact on inflation.
The E-mini Nasdaq-100 (NQ) futures prices edged slightly lower during the Asia session on Wednesday. The US Federal Reserve is anticipated to deliver another significant interest rate hike that will present more evidence of the country's central bank's efforts to control inflation in corporate America.
Investors worry that the Fed's aggressive measures to tighten policy could push the US economy into a recession. After Ford announced a larger-than-anticipated $1 billion impact from inflation and delayed the delivery of some vehicles until the fourth quarter, its shares fell 12.3%, the most in a single day since 2011.
"We have seen some bellwethers talk about the pressures they are facing. We could see some margin compression and some softening in the topline numbers in the third-quarter earnings," said Greg Boutle, head of US equity & derivative strategy at BNP Paribas.
After its policy meeting on Wednesday, the US central bank is expected to raise interest rates by 75 basis points for the third time. Markets have also priced a 17% possibility of a 100 bps increase and forecast the terminal rate at 4.49% by March 2023.
After chasing inflation for the better half a year, the Federal Reserve will release new estimates this week that look as far ahead as 2025. These provide more detail on the breadth and duration of the economic "pain" policymakers anticipate will be required to halt the current price increase. The story thus far is not pleasant.
Despite the fastest set of US interest rate rises in almost 30 years, the pace of price increases, which by the Fed's preferred gauge are running at more than three times its 2% target, has hardly changed.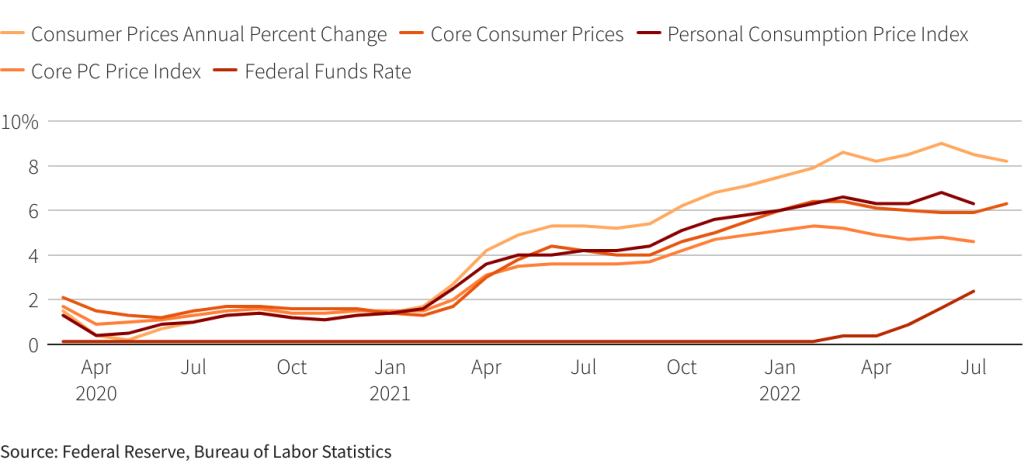 The impact of rate increases on inflation in the US has barely been shown. Rates are going up while inflation moves sideways, so the Fed might need to do more.
There may yet be hope for a "soft landing," which would involve a decline in inflation toward the 2% target without a recession. Policymakers are unlikely to predict a complete decline in the economy. For now, however, the outlook is still bleak.