Gold trading inside minor and major support zones
Gold Sell off as Dollar rallies after CPI report
Volatile market conditions expected
The Daily Support Zone
Last week we spoke about the major support zone in GC in this article. We still find a lot of buy support happening at this level even after a major sell-off in Gold as the CPI report bolstered the US Dollar.
At the moment, even after the CPI report, there is no sign the support level will fail to hold; until that happens, we see no targets to the downside for the time being.
Sell Off after CPI Report
Gold saw a 2% decline on the day as fear struck the markets. The price slump, however, may be short-lived as Gold is traditionally always looked at as a safe haven. This could be why we saw the NQ crash by 7% compared to the yellow metal.
With this in mind, there may be a potential long trade in GC as long as the support level holds. However, we must be mindful that as the Fed continues to raise rates aggressively, the dollar will rally, which means Gold would do the opposite.
Minor Support Level
The minor support level between $1,703.9 and $1,710.2 has been tested three times. This level is within the major support level referenced above, and this adds more confluence to the idea that the level may hold.
If traders decide to take long trades, the downside risk is defined because we can set our stop losses below the support zone.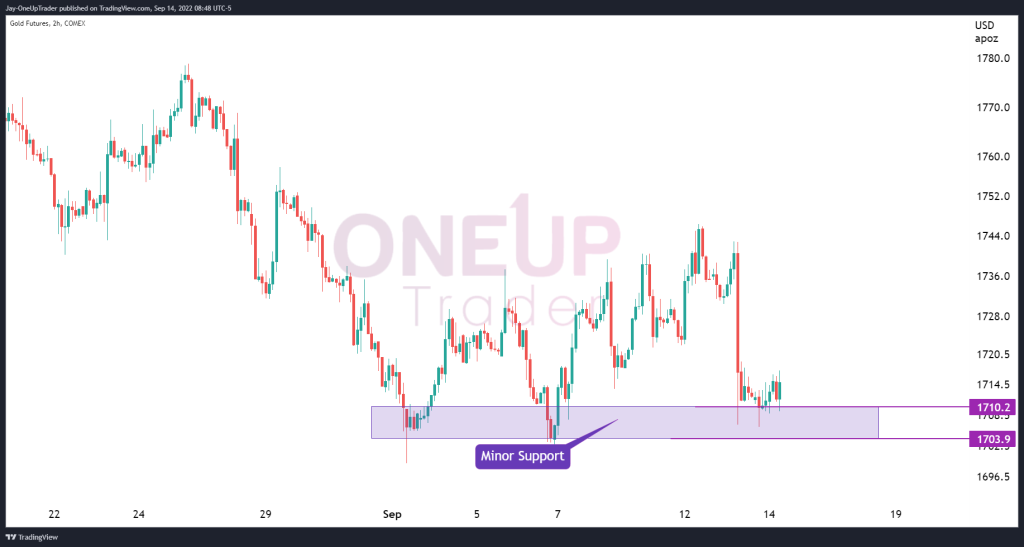 Volatile times ahead
As the CPI report suggests, the Fed is more likely to hike interest rates aggressively, and the markets will re-adjust to that. This means we can expect a lot of volatility, at least in the short term; this can be an excellent opportunity for traders. However, we must ensure that our risk is defined and not over-leverage our positions in these trading environments.