US inflation data came in higher than expected, surprising investors.
Markets are pricing in a possible 100bps rate hike.
Investors no longer believe the Fed will pause rate hikes any time soon.
Major equity futures indices including the E-mini Nasdaq-100 (NQ) futures tumbled last Tuesday as markets braced for an even more aggressive US Federal Reserve due to soaring US inflation.
The hotter-than-expected inflation figures released on Tuesday strengthened the argument that the Fed will need to be more aggressive in the coming weeks. Investors are forced to prepare for a potentially greater dosage of Fed tightening, which has rocked asset prices all year.
The widely watched CPI report showed US consumer prices unexpectedly climbed in August, with prices growing at an annual pace of 8.3%, not far from the four-decade peak achieved in June.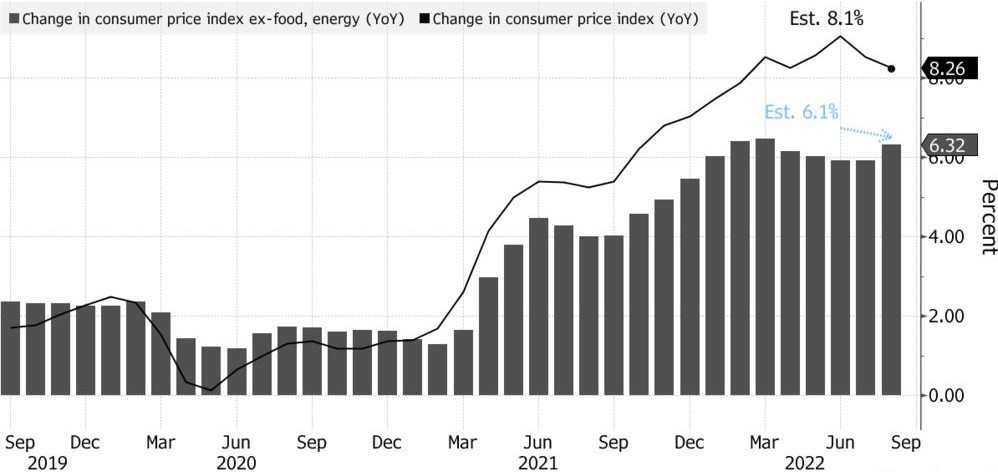 Investors had expected it to get to 8.1%, as seen above. Core inflation, on the other hand, excluding food and energy, rose to 6.3%. This was higher than the 6.1% estimates.
Fed funds futures are currently pricing in a roughly 36% possibility that the Fed will increase its benchmark rate by 100bps next week. On Tuesday, analysts at Nomura predicted a 100 basis point increase in September, agreeing with the estimate. Analysts have also increased their predictions for how much the central bank will increase rates in the upcoming months.
Tuesday's inflation report put further pressure on an equity market rebound. Furthermore, it dispelled some of the hopes that the Fed would soon be able to "pivot" to loosening monetary policy, which periodically supported risky markets.
"Any impending Fed pivot isn't in front of us, and this data point confirms that," said Matt Peron, research director at Janus Henderson Investors. "The market got a little ahead of itself over the last couple of weeks with the peak hawkishness narrative."
"The key question is, at what point does the Fed build enough confidence that they've done enough? It's clear that we're not near that point now," said Ed Al-Hussainy, senior global rates strategist at Columbia Threadneedle. "On the risk asset side, I think there's more damage to be done."
As markets continue to price in the bigger rate hike, the E-mini Nasdaq-100 (ES) futures prices will continue falling. Investors expect US PPI data later in the day to give further insight into US inflation and what the Fed is likely to do at its next meeting.