Target 1 hit from Monday's trade idea.
The Daily chart shows the formation of a bullish Parabola pattern.
CL retraces into the Gaussian Channel for the first time since July.
Recap From Monday
CL has dropped about 4.5% since Monday, and the price target of $82 stated in our analysis has been hit for a potential profit of +/- 340 points. Target 2 at $76.20 is further away from current prices, and by studying recent price action, a move down there would require a lot of bearish momentum. It will also most likely lead to a drop below this year's lows of $76.42, which is starting to feel like a stretch in the near term. Please refer to Monday's analysis for more context.
Parabola Formation & Gaussian Channel
There is a strong Parabola that has formed on the daily chart. Parabolas require three points for them to be legitimate which this formation does have. In fact, the price has bounced off the Parabola in today's session, which could be the start of a move higher. Targets are set at $90 and then possibly at $93.64 if momentum is strong. The stop losses can be fairly tight because we want the price to remain above the parabolic curve. If we see it break below, then target 2, mentioned in Monday's article, could be possible.
We must also be mindful that the price has retraced into the Gaussian channel for the first time since July. We may see a small move higher before more sellers enter the market, eventually continuing the downtrend we have seen this year.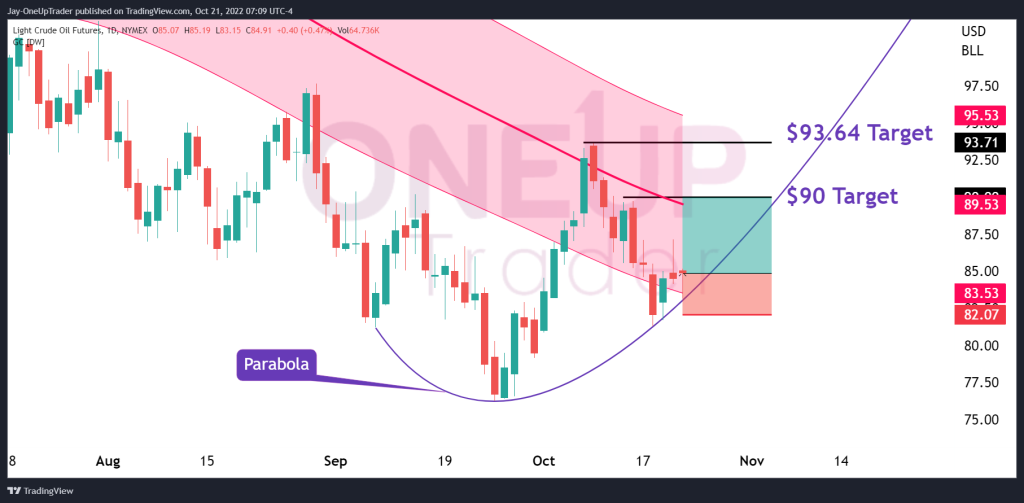 Summary
We see the potential for a small upside in the near term if the price remains above the parabolic curve. Lower targets mentioned in Monday's article are by no means off the table, especially if we see a fair amount of selling pressure around $90 or a drop below the Parabola. Ultimately there are opportunities in both directions, and it all depends on the trader's risk tolerance and time frame. Bears would have a longer time frame than bears.