The UN and other Economists Urge Fed To Halt Rate Hikes
NQ Bouncing Off Yearly Lows
False Break Candle Setup
UN Urges Fed To Halt Rate Hikes
Even though these articles are focused on technical analysis, we cannot forget the macro-economic picture because it can significantly impact our technical decisions. The UN has urged the Fed to stop raising rates as global recession fears rise. This has caused a rally in NQ at the perfect time as it bounces off yearly lows.
NQ Bouncing Off Yearly Low
In our analysis from last week, we suspected NQ could fall to test the yearly low of $11,068.50, and we see that has played out. The interesting thing about what we have seen is the false-break candle strategy setup on the daily chart. Earlier in the year, we posted a video on our youtube channel about the false break strategy, which you can view here.
The False break Candle is usually a strong signal of a reversal, coupled with the fact that the UN is urging the Fed to stop hiking rates has suddenly given some strength to the bull case.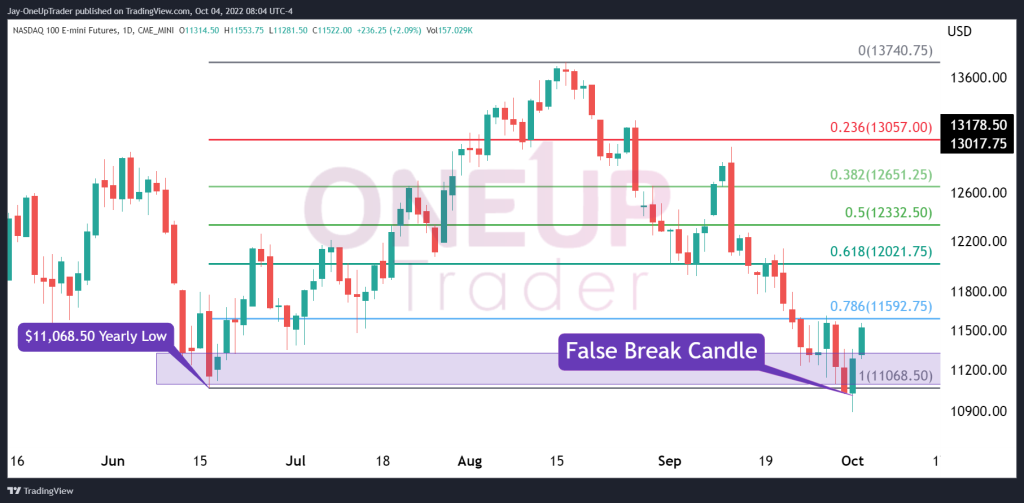 False Break Candle Trade
The setup has already been confirmed; this doesn't give complete certainty that the low is in; of course, we must always think in probabilities as nothing is set in stone.
The Long Trade
There is still the possibility that prices may head lower to test the previous yearly lows; however, if the Fed does indeed slow down the rate hikes, we could see a swift rally. With that in mind, the long trade goes as follows: Long positions can be opened above $10,900; that is where stop losses will be triggered, and it will let us know the trade direction is still headed lower. Targets could be set at the 25 EMA which is trading around $11,841.75 and the second target could be placed at the 61% Fib level at $12021.75.
Summary
Everything hinges on what the Fed will do moving forward; traders who decide to take positions at these times must be ready to liquidate or reverse quickly. Keep updated on the story regarding the UN here.