Rising US yields weigh on the JPY/USD futures.
The Bank of Japan maintains its dovish policy, further igniting the bears.
US PMIs, durable goods data, and Fedspeak are the key focus for the market participants.
Futures prices for JPY/USD (6J1) remain strongly influenced by US Treasury yields. However, we anticipate that the pair will gain further over the next few weeks.
Due to the similar risk profiles of the US dollar and yen, geopolitical risk should not affect the JPY/USD (6J1) as much as other currencies unless another bout of risk aversion causes US yields to fall again.
A change in trade terms may have played a part in the yen's weakness, as Japan is a large net importer of commodities. In addition, the JPY may be more vulnerable to a rise in US Treasury yields due to less favorable trading and checking accounts.
On March 18th, the Bank of Japan maintained its monetary policy. With underlying price pressures declining, we anticipate no change in policy in 2022.
The Fed's hawkish stance
Thursday was the second straight day that the US dollar rose. With lingering geopolitical concerns, the dollar's bullishness has been bolstered by a resumption of the uptrend in US yields across the curve and a firmer outlook for faster/harder Fed normalization.
CME Group's FedWatch tool indicates that the odds of a 50 basis point rate hike at the May meeting have increased to 68%, more than double the number a week ago.
Risk aversion amid Russian aggression
Market sentiment is also under pressure ahead of President Biden's meeting with NATO allies in Europe due to the US' willingness to impose additional sanctions on Russia. In addition, the willingness of Russian President Vladimir Putin to require ruble payments for oil sold to "unfriendly" countries and concerns about the Coronavirus in China and Europe have also strained sentiment.
JPY/USD futures daily open interest
The pair gained significantly on the last trading day. However, the open interest has declined around 6,000 contracts.
What's next for JPY/USD analysis?
Markit will release preliminary month-to-date manufacturing and service PMIs in the US data room. In addition, the usual initial claims followed by durable goods orders and speeches by FOMC's R. Waller (permanent voter, hawkish), Chicago FRB C. Evans (2023 voter, centrist), and Atlanta FRB R. Bostic (2024 voter B. centrist) are important to watch.
JPY/USD futures technical analysis: Mounting bearish pressure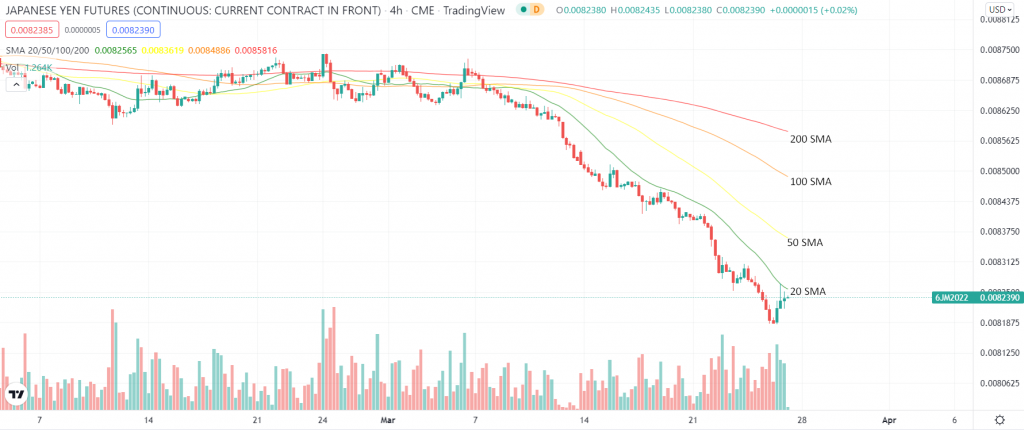 The JPY/USD is maintaining a downtrend. The 4-hour chart shows a strong bearish bias. The pair remains well below the key moving averages on the chart. After the price failed to recover, the pair continued its decline with a very high bearish volume.