The gold futures (GCJ2) briefly gained on Monday as the new week started. The precious metal rose as the risk aversion intensified amid Russia's rejection to surrender Mariupol. However, the gains in gold futures are limited as the US Treasury yields have significantly gained on the day.
Fed's hawkish plan
The FOMC raised the interest rate by 25 basis points in the meeting last week. Meanwhile, the Fed has reiterated the need to hike rates in all the remaining six meetings of 2022. Moreover, the central bank has shown concerns about rising inflation in the US.
The US yields have posted 1.58% gains at the time of writing, mainly attributed to the Fed's rate hike. On the other hand, the non-yielding yellow metal suffers losses because of this.
Russia-Ukraine conflict on the rise
The market participants are cautious as the Russia-Ukraine conflict reaches no peace agreement. The market sentiment has been largely influenced by the events of the Russia-Ukraine war. The escalated bombardment in Kyiv by the Russian forces is intensifying the war troubles. Moreover, Russia has rejected the proposal to surrender the port city of Mariupol.
Although the risk-off sentiment continues to lend support to the gold, the US dollar remains a leading position as a safe-haven asset.
Situation in China
The rising Covid infection in China is deteriorating the risk sentiment. Meanwhile, Evergrande's suspension in Hong Kong also fuels the fire.
On the other hand, the PBoC maintained the policy rate unchanged and the 1-year loan prime rate. The decision weighed on the Asian stocks slightly.
Gold futures and open interest analysis
The open interest for gold futures is constantly decreasing. Friday's open interest figures showed a reduction of 2000 contracts. Meanwhile, the volume increased over the past two trading days. It hints that the gold futures may have a limited downside and look for further gains.
What's next for the gold?
The US President Joe Biden will call the leaders of different countries, including the UK, Italy, Germany, and France, to discuss the recent situation of the Russia and Ukraine war. He will urge the world leaders to exert more pressure on Russia. Such a move may provide impetus to the gold futures.
Moreover, Fed's Powell will peak today, and the market participants will try to find hints about inflation in the future.
Gold futures technical outlook: Recovery looks shallow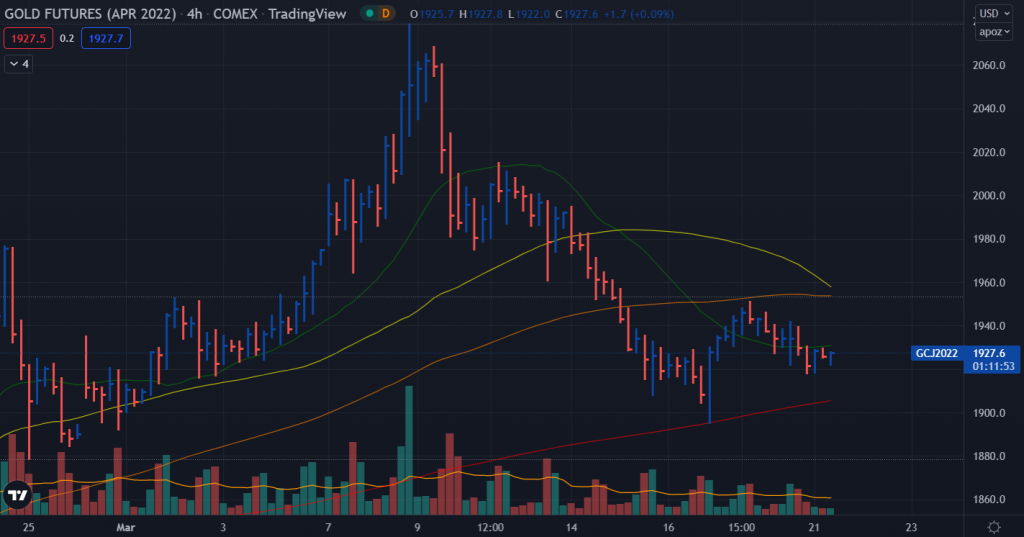 The gold price remains weak on the 4-hour chart. The price is struggling below the 20-period SMA (green line). Meanwhile, the price may be attracted to the 200-period SMA (red line) around $1,875. This is a previous swing low as well.
On the flip side, the price may attempt to recover if it surpasses the 20-period SMA. However, the metal may find strong resistance at the $1,950 area.