YM Bounces Out Of Major Support
Fibonacci Moving Average Analysis
Spinning Top Candlestick From Yesterday's Session
A possible Dead Cat Bounce?
YM Bounces Out Of Major Support
The E-mini Dow (YM) traded inside the support band between $28,688 and $29,692. This area is within the accumulation zone and topped back in 2020. The rumors that the Fed may slow down the rate hikes have bolstered markets, but we are not convinced. We will discuss later in the article the possibility of this run-up being a dead cat bounce.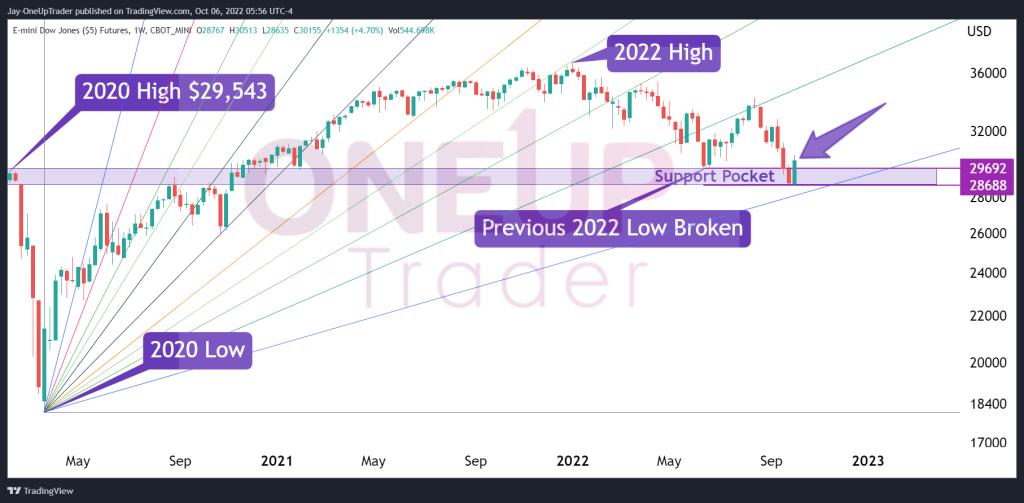 Fibonacci Moving Average
Looking at the daily chart, prices have also bounced out of the Fibonacci moving average. The indicator is still green, and only once it turns red does it confirm a bearish trend. The Fibonacci Moving Average creates two types of 15 Exponential Moving Averages, each with a Fibonacci number as the lookback period that starts at 5. As a result, the Fibonacci Moving Average is generated on both highs and lows in most cases. As a result, we'll average over the high and low prices rather than the close price. As a result, we have a moving zone. Look at the video we produced here on the Fibonacci moving average.
Spinning Top From Yesterday's Session
The spinning top we saw from yesterday's session tells us the buying pressure is already weakening, but it's not enough. Today's sessions will confirm whether we can trust the formation or not; if the session closes around yesterday's lows of $29,933, then we have an evening star pattern. This will likely turn into continued selling as the price heads toward the support zone mentioned above.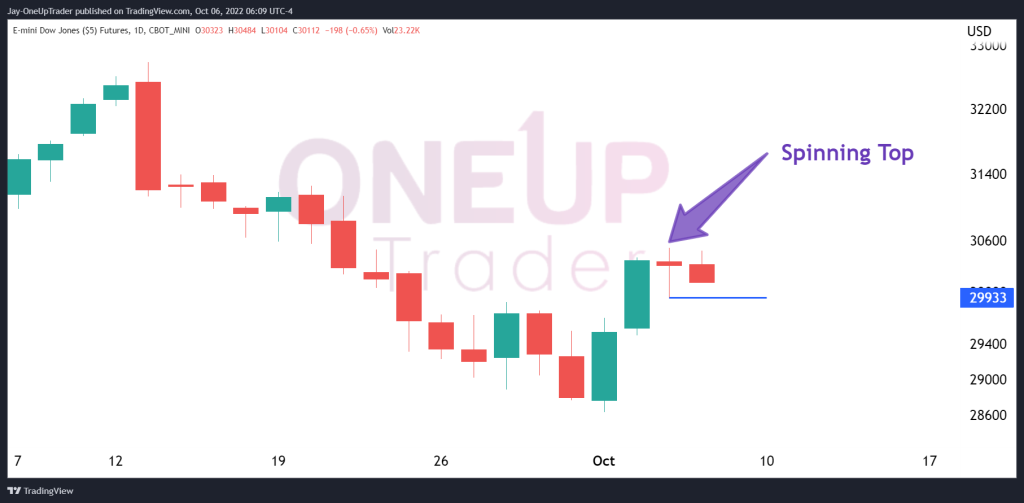 Dead Cat Bounce?
Traders must be wary of moves like these especially when they are based on 'talks' and not facts. We cannot justify this move upward until we have actual evidence from the Fed that they may slow down hiking rates. If we do not get confirmation, we may likely see YM moving lower in the short term to test the support zone.