Bullish price action remains in the US Dollar index (DXY).
What a strong Dollar means for the stock market.
Previous resistance has now become support.
Recap
The last time we looked at the US Dollar (DXY), we noticed the strong price action and bullish up trend. Before we look at the new developments in the Dollar, let's understand what it means for us as traders and investors.
A stronger Dollar typically has an inverse relationship with gold, crude oil, and US stock indices:
Gold and oil are priced in Dollars, so a stronger Dollar makes them more expensive for international buyers, putting downward pressure on prices.
A strong Dollar can reduce the competitiveness of US exports, potentially impacting corporate earnings and stock prices.
Technical Analysis
The first thing to note on the chart is the incredibly bullish uptrend since July, with almost every red candle being bought back up. The support zone below the price is $105.43, which was originally resistance. Price doesn't even look like it is going to test that level, as the small dip from $107.2 – $105.9 is already getting bought up.
The RSI is hitting into overbought territory all the time, but with the current trend construction in the Dollar, that is not a bearish sign; that is a bullish signal. There is also no sign of divergence on the chart because there have been no real pullbacks.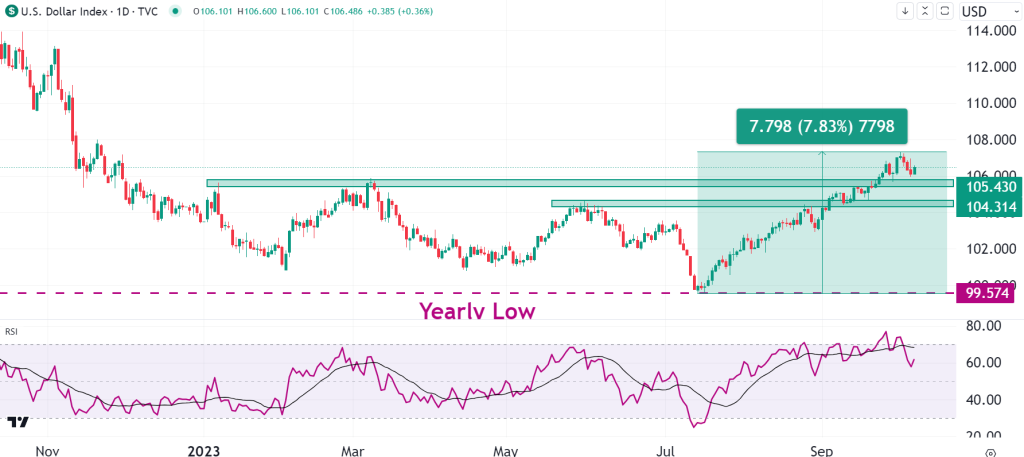 What A Strong Dollar Means For The Stock Market
A stronger dollar is usually a headwind for the overall stock market. When the value of the dollar rises compared to other currencies, it makes U.S. exports more expensive for international buyers. This can hurt the profits and sales of large U.S. multinational companies, potentially dragging down their stock prices. A strong dollar also makes commodities like oil and gold priced in dollars more expensive, which can negatively affect related stocks. However, the dollar is just one of many factors impacting stocks. The underlying strength of the U.S. economy and corporate profits is more important over the long run. So while we need to keep an eye on the dollar, we musnt let it be the only factor driving our investment decisions.