Oil supply concerns were reduced this morning, pushing the index higher.
Positive US data has eased recession fears among investors.
Crude oil inventory data from the US could move the index later in the day.
Bulls could push prices to 13000 in the charts.
The Nasdaq 100 index (NQ) futures closed lower on Wednesday, as did Wall Street's three major indices. This move was made despite the good economic data from the US. Investors bet that the news would do little to push the Fed's aggressive policy track to control inflation.
Job openings in the US fell in April but remained at high levels. This drop points to continued wage increases driving inflation higher as companies scramble for workers.
The Nasdaq 100 futures index was boosted this morning by announcing that Saudi Arabia would increase oil production if Russian output dropped. This news reduced some of the recession's fears as it could help central banks reduce inflation.
If the cost of living stopped rising, central banks would not have to implement such tight monetary policies, which would keep economies from deteriorating. This news was received positively by investors.
The US manufacturing activity went up faster than investors expected in May as demand for goods remained high. This news eased concerns about a recession as the economy is not doing too badly.
Investors also monitored public comments from Fed officials yesterday. The economy in most US regions expanded moderately in April and May, as shown by a Fed report.
Later in the day, investors will be looking for data from the US on crude oil and employment to see how the economy is doing.
Nasdaq 100 Futures (NQ) technical forecast: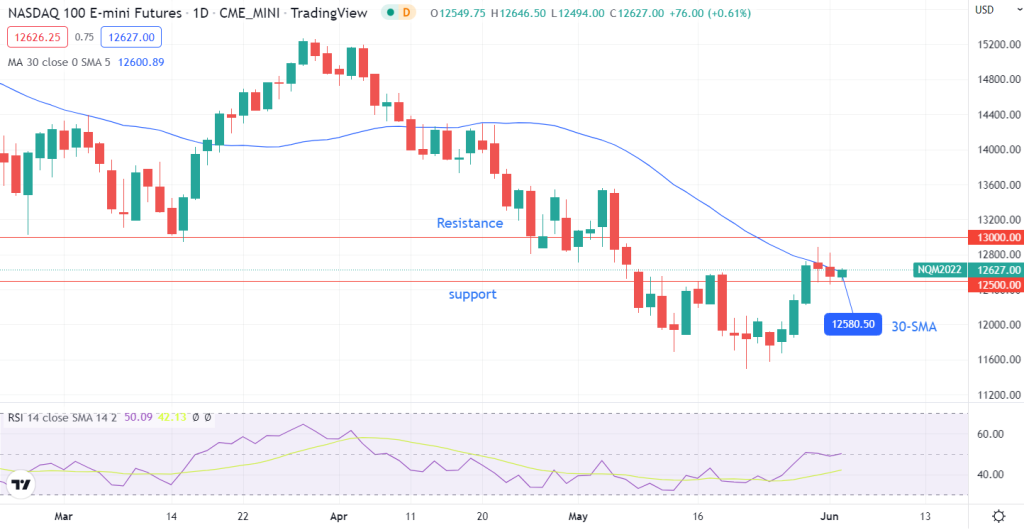 The 4-hour chart shows a pullback to the 30-SMA in the new bullish trend. This new trend was confirmed when the RSI went to the overbought region. This RSI reading shows that bulls have taken charge of this market for now. For this reason, the bias here is bullish.
The price is more likely to bounce off the 30-SMA and push to 13000.00. The price is also currently sitting above a rather significant level at 12500.00, which could support prices. If prices were to break below the 30-SMA, then the bias would only change to bearish if the RSI indicates oversold conditions.