G7 leaders have agreed to a possible ban on Russian oil.
Saudi Arabia might be unable to boost output, bringing back supply concerns.
Political unrest in oil-producing countries could lead to tighter global supply.
The outlook for Crude oil futures today is bullish due to the supply concerns fueled by primary producers Saudi Arabia and the United Arab Emirates. They might not be able to increase output significantly. At the same time, Western governments agreed to a possible cap on Russian oil imports.
According to the International Energy Agency, Russian oil export revenue, which is majorly funding the Ukraine war, went up in May as volumes fell. G7 leaders aim to reduce Moscow's war funds by imposing a ban on Russian oil above a specific price.
These bans on Russian oil have increased oil prices as other major producers haven't yet boosted supplies.
"A seam of tight supply news bolstered the market. Two major producers, Saudi Arabia and the UAE are said to be at, or very close to, near-term capacity limits," Commonwealth Bank commodities analyst Tobin Gorey said in a note.
"It seems like the rainy day barrels the market was relying on may not appear," said Bob Yawger, director of energy futures at Mizuho.
This comment came after French President Emmanuel Macron told US President Joe Biden that Saudi Arabia could only increase output by 150,000 bpd below the 2 million bpd expected by markets.
It is also possible that supply gets much tighter with the political unrest in Ecuador and Libya, which are oil-producing countries.
Crude oil (CL) futures technical outlook: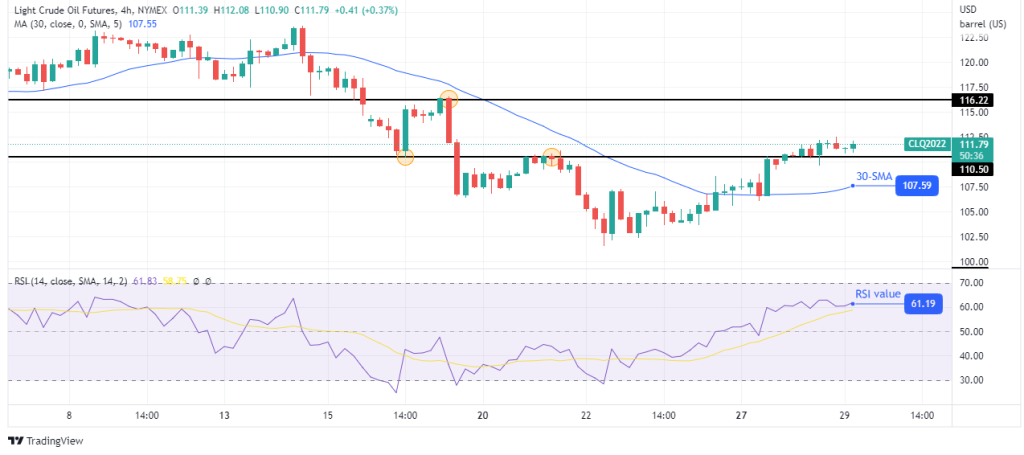 Looking at the 4-hour chart, we see the price pushing higher after breaking above 110.50, which acted as resistance on June 21. The price is trading above the 30-SMA, and the RSI is above 50, which supports bullish momentum.
If bulls can maintain this bullish momentum, we could see the price push to 116.22 as the next target. 116.22 acted as resistance back on June 17. If bears come into the market before the price gets to the June 17 resistance, we could see the price pushing lower and finding support at the 30-SMA. If the SMA fails as support, then the trend direction will also change.