Precious metals continue to rally after FOMC minutes.
Long-term US Treasury yields fall to a more than seven-week low.
Investors are leaning towards a 50bps Fed hike in December.
The prices of precious metals rose on Friday as markets continued to assess the Federal Reserve's dovish signals. Long-term Treasury yields in the United States fell to a more than seven-week low, and the dollar dropped to previous lows.
Following the release of the November FOMC minutes, gold prices once again climbed beyond $1,750/oz. The minutes showed that most Fed members thought the fed funds rate hike should be slowed down soon.
Some policymakers said the final federal funds rate needed to keep prices stable and get the most people working was higher than they thought in September (4.6%). This is because inflation didn't seem to be going down much, and there were still problems with supply and demand. However, it does not appear that this position is gaining traction among Federal Reserve board members.
Investors began pricing in smaller Fed interest rate increases in the coming months. A 50bp increase in December is more probable than a 75bp increase (44% vs. 66%).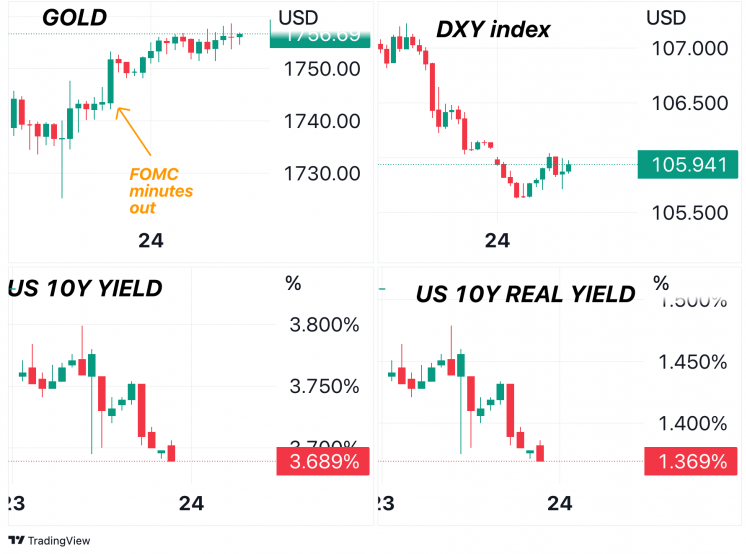 The yield on the 10-year Treasury note dropped once more to 3.68%, close to the previous week's lows, and the yield on the 10-year real note fell to 1.37%, returning to the level seen in early October. The greenback dropped as rate expectations decreased.
Precious metals like gold pushed higher even though China's Covid resurgence and new restrictions have affected physical gold demand in Asia this week. China, the world's largest gold center, has seen a further decline in premiums, while India has seen a decline in demand for the yellow metal due to rising local expenses. The world's two biggest gold consumers are China and India. According to official figures released on Thursday, China has experienced a record number of daily coronavirus cases since the pandemic's start. Lockdown restrictions were reinstated in key locations, and the country recorded 31,454 domestic cases. The market attitude is cautiously hopeful as the Federal Reserve's dovishness overshadows China's covid worries.
The future looks bright for precious metals as US inflation slows and the Fed considers slowing the pace of rate hikes. December 13 will see the release of the US CPI report, which will either mean further upside for precious metals or a pullback as markets reassess the pace of Fed hikes.