Micron, Novavax, and Upstart warn investors of poor future earnings.
Investors are waiting to see if US inflation has peaked.
Rising bond yields cause the decline of growth stocks pushing stock futures lower.
Micron, Novavax, and Upstart have warned investors that future earnings and revenue will be lower than anticipated. The S&P 500 dropped by 0.42% with this announcement.
Investors eagerly expect the most recent consumer price index report, which may confirm or dispel expectations that the rate of price increases has peaked. According to economists, the report will reveal that inflation has eased marginally due to falling oil prices.
"In terms of reactions, the market will initially get more excited by a downside core CPI surprise than an upside surprise, especially as it relates to risk appetite," Alan Ruskin of Deutsche Bank wrote in a Tuesday note. "A downside surprise plays to 'hopes' that an oil/food commodities peak, plus slower demand, will filter quickly into US inflation data."
Before its September meeting, where it is expected to raise interest rates once more, the Federal Reserve will consider the report in addition to other important economic data.
At the same time, the earnings season is still strong, and Disney's quarterly results are coming today after the bell. Growth and technology companies fell, with Apple Inc. and Tesla Inc. each falling 0.6%. These stocks' valuations are sensitive to rising bond yields.
Micron Technology Inc dropped 4.6% after the memory chip manufacturer warned that a shipment slowdown could result in significant sequential revenue and margins decline. The company's free cash flow for the first quarter of its fiscal year was projected to be negative.
E-mini S&P 500 (ES) futures technical forecast:
The trend channel reported on August 5 seems to have been firmly broken to the upside for the time being on the E-Miin S&P 500 (ES).
The Resistance zone between 4,100 and 4,200 is still finding some activity, with Bulls and Bears trying to take control of the market's next move.
On the daily chart, the bearish scenario will be that prices break below 4,100 and move swiftly toward the support zone at 3,950. A bullish scenario could be that prices may rally out of the consolidating resistance zone and begin moving toward the next Resistance area, which is between 4,262 and 4,321.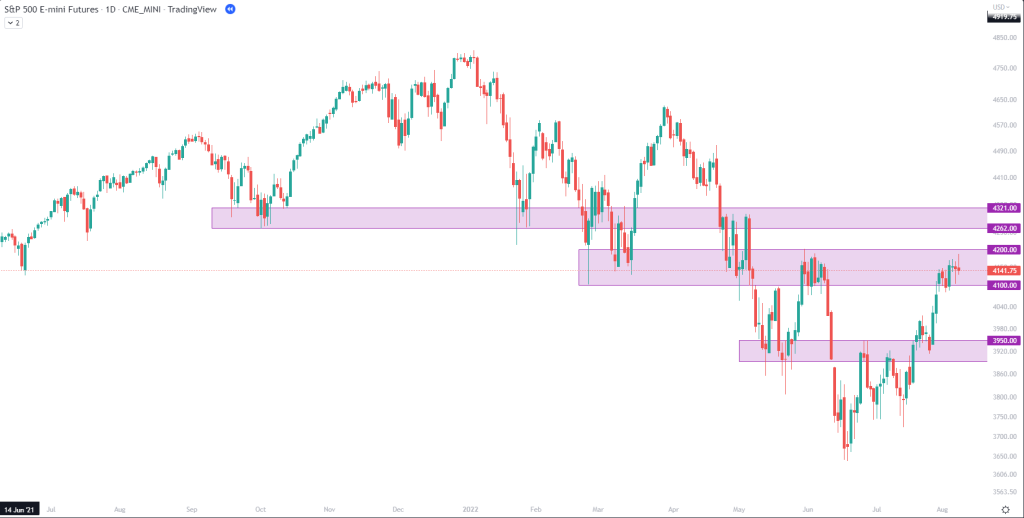 On the hourly chart, a noticeable uptrend channel began on July 14. The channel had its high point formed on July 29 and then started a consolidation period up till now. This consolidation and accumulation area could be coiling the following spring to either the upside or a retracement down to the S3 pivot point at 4,064.75 or even lower to 4,010.
If the CPI data later today provides a bullish sentiment to markets, the E-mini S&P 500's next target on the hourly time frame would be 4,170, which is the high zone of the consolidation area we previously mentioned. If prices break above that, the target would be 4,250.