A closer look into the Parabolic channels.
Consolidation on the hourly chart could break in either direction.
Parabolic Channels
With parabolic channels, we take the same approach when drawing the main parabola; we need at least 3 points to make the connection. I've marked the main parabola in the image below with the connection points. We then draw a vertical line at the first point and copy-paste the parabola upwards, attaching it to the first major swing and ensuring the line is also starting at the vertical line we drew. We can then measure the distance between each channel and paste another line upwards, following the same rules. This will give us channels we can trade within as the market moves inside them.
In the Analysis of the parabolic channels drawn below, YM is currently testing the top of our third-pasted Parabolic curve. With the Dow uncorrelated to other equity markets and it looks slightly overbought at the moment, Bears may consider taking shorts around these levels with stops above the parabolic curve.
Consolidation on the Hourly Chart
Bulls will rejoice in the fact that at each up move we have seen in the past month, a consolidation period has followed where the price has continued to move sideways instead of retracing. This is usually a powerful sign that the market is so bullish that buyers keep the price sideways instead of dropping during a correction move.
The 1-hour chart looks bullish, and a break above $34,028 could lead to the continuation of the uptrend for another leg upward.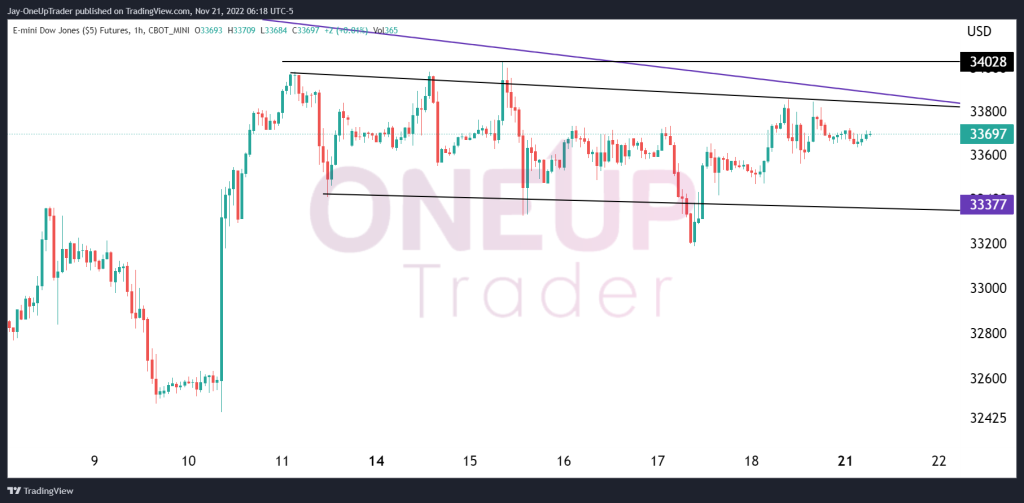 Summary
There are potential plays for both Bears and Bulls. The daily chart continues to push upwards, but since it's at the top of the parabolic channel, we could see a sell-off from here. Looking at the hourly chart, however, there is no sign that the bullish momentum is slowing down any time soon; so both Bulls and Bears need to find the best probability setups moving forward if they wish to capitalize on the next move, be it higher or lower.