Gold prices are falling on a hawkish Fed tone, boosting the Dollar.
US retail sales rose more than expected in October, showing resilient consumer spending.
US Jobless claims fell last week, indicating a tight labor market.
Gold and silver prices fell on Thursday as the Dollar rose in response to recent remarks from US Federal Reserve officials signaling continued policy tightening to control inflation. Mary Daly, a resident of the San Francisco Fed, told CNBC that a rate hike pause is not an option and that it is reasonable for the Fed to increase its policy rate to a range of 4.75%–5.25% by the beginning of next year. Because bullion does not pay interest, rising interest rates tend to diminish its appeal.
The Dollar increased on Thursday as Federal Reserve officials' hawkish comments warned investors that a less aggressive monetary policy is unlikely given the continued tight labor market in the United States.
"The Fed needs to continue raising rates by at least another full percentage point, as hikes so far have had only limited effects on observed inflation," said James Bullard, president of the St. Louis Fed.
"Using even "dovish" assumptions, a basic monetary policy rule would require rates to rise to at least around 5%, while stricter assumptions would recommend rates above 7%," Bullard said at an economic event in Louisville, Kentucky.
The fact that US retail sales rose more than anticipated in October reduced some of Gold's recent gains. It rekindled hopes that the Federal Reserve would continue raising rates due to the country's improving economic indicators.
According to US data, fewer people filed for unemployment benefits last week, showing that there is still a tight labor market.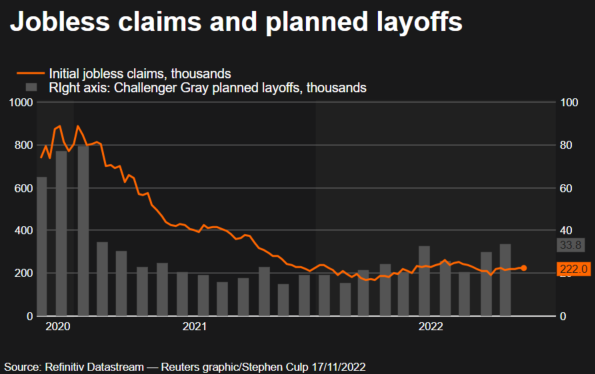 The number of Americans submitting new claims for unemployment benefits decreased last week, demonstrating widespread layoffs are still low despite a spike in job losses in the technology sector that have stoked concerns about an impending recession.
"This is a testimony to how tight the labor market remains," said Robert Frick, corporate economist at Navy Federal Credit Union in Vienna, Virginia.
All these positive economic releases have restarted the Dollar rally, hurting Gold prices.
"Gold appears to have run out of steam as the recent decline in the US dollar starts to find a bit of a base," said Michael Hewson, chief markets analyst at CMC Markets.
For owners of other currencies, the Dollar index's price increase has made Gold more expensive.