Gold's recent price action gives little opportunities for bulls.
Traders could be waiting for a short squeeze to initiate short positions.
Trader mindset announcement.
The slide
Gold futures have dropped 7.6% in 14 days. In that period of time, 80% of the candlesticks have been red. The sell-off has been steep, and bulls would signal that a short squeeze has got to occur sooner or later.
In the previous GC analysis we did, we spotted a support zone at $1,818.9. Price is currently trading within this zone.
Looking at the chart, the sell-off has been too strong for us to even consider taking a long position from here unless we were to scalp a few points.
The support zone is also a minor one. We could easily see price fall to $1,794.2, which is the 0.382 level and the 100-day moving average, so it is probably the time to be sitting on our hands over here.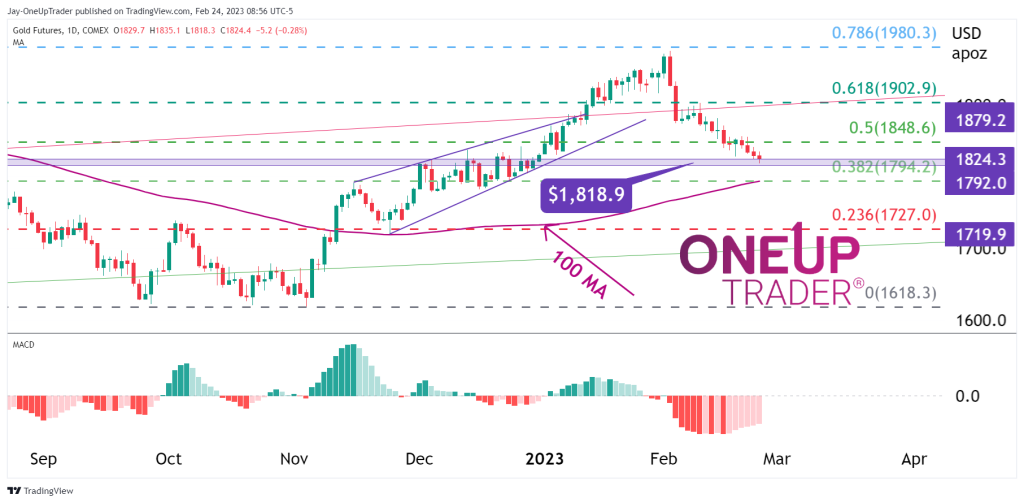 Moving forward, we should consider waiting for a bounce out of this support level and using the short squeeze as an entry to short. Looking at stronger-than-expected US data, its difficult to see the recent downtrend in GC coming to an end any time soon.
Announcement about trader mindset
Soon, we will be launching something called 'trader mindset.' It's a series of 1 on 1 sessions traders can book to have with Jay.
In these sessions, we are going to focus 80% of our attention on mindset and 20% on the practical elements required in trading and markets. We are going to look at your schedule, personality, and trading philosophy to begin building a solid plan you can rely on. We will not cover trading strategies in these sessions nor technical patterns or setups. I am simply here to help you understand the best path forward toward achieving trading success. I am here to support you. We will be releasing a video soon with more details.
Topics we will discuss include:
Objective trading vs. subjective trading
Developing an actual plan and something that you can trust
'Importance' as a major factor in why failure arises and how to release it
The ego and its role in trading decisions
How you can make trading easy
How to make the choice that successful trading is what you actually want
Vital exercises to improve your trading ability and decision making
Why your expectations on the outcome are the reason things don't work out
All major athletes need coaches. Trading is no different
How to think in probabilities
If this is something that interests you and would like to be added to the list for a free session once rolled out, please add me on discord here Jay-OUP#6138, or send me an email at jay.g@oneuptrader.com