The anchored vwap, stochastic, and tight price range give us a bullish trade.
How we can take the trade and the length of time, we expect for it to play out.
Trader mindset announcement.
Technical Analysis
Anchored VWAP: The anchored vwap anchors the volume-weighted average price to a specific candle on the chart. In the example below, I anchored the vwap to the high of the last cycle (Jan 2022). The vwap is usually a good indication that price is going to turn once it tests it, and so, as YM trades right on the vwap, we can add one check mark to our bullish sentiment.
Tight range: $32942 & $34281 is the range YM price is trading within. The market has seemed to catch some buying pressure as it moved into the lower band of this zone, and a small bounce out of here gives us another check mark for our possible long trade.
Stochastic: I am not a big fan of the stochastic indicator, but it can be useful in range-bound markets. Since YM has been stuck in this range, we can use stochastics to help us look for areas to buy and sell. On the daily chart, the stochastic is oversold currently as it trades inside the support zone mentioned.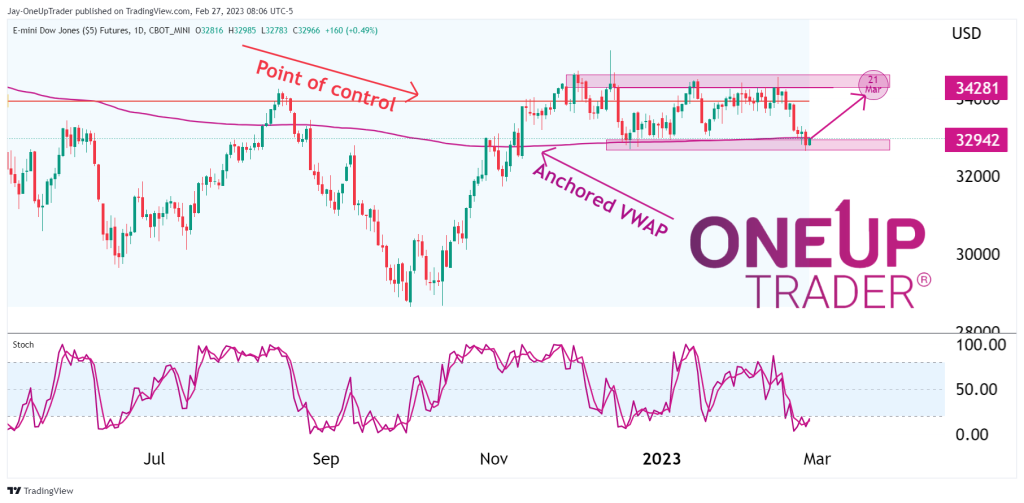 The trade
I mention how important it is to view the markets objectively and in probabilities. It is clear to see from here the long trade has a higher expectancy than the short. Since we are bouncing out of the support zone, the stochastic is oversold, and the anchored vwap is acting as a springboard, bulls can begin longs around these levels with a target in mind of $34200. This trade made take up to four weeks to play out if it is a successful one, so patience is required.
Remember at OneUp Trader, even though you need to close your positions by 3:15 PM CT, you can still swing trade. All you need to do is get the position closed by that time and then re-open it at 5PM CT. Some platforms can be set to do this automatically, too, but I recommend doing it manually at first before you are certain the platform will do it for you.
Announcement about trader mindset
Soon, we will be launching something called 'trader mindset.' It's a series of 1 on 1 sessions traders can book to have with Jay.
In these sessions, we are going to focus 80% of our attention on mindset and 20% on the practical elements required in trading and markets. We are going to look at your schedule, personality, and trading philosophy to begin building a solid plan you can rely on. We will not cover trading strategies in these sessions nor technical patterns or setups. I am simply here to help you understand the best path forward toward achieving trading success. I am here to support you. We will be releasing a video soon with more details.
Topics we will discuss include:
Objective trading vs. subjective trading
Developing an actual plan and something that you can trust
'Importance' as a major factor in why failure arises and how to release it
The ego and its role in trading decisions
How you can make trading easy
How to make the choice that successful trading is what you actually want
Vital exercises to improve your trading ability and decision making
Why your expectations on the outcome are the reason things don't work out
All major athletes need coaches. Trading is no different
How to think in probabilities
If this is something that interests you and would like to be added to the list for a free session once rolled out, please add me on discord here Jay-OUP#6138, or send me an email at jay.g@oneuptrader.com