CL has been range bound this year as price bounces between $70 and $80.
The gap we mentioned last week has been filled.
Interesting story about an Oil trader.
Overview
Crude Oil has been an interesting one to watch this year as we see prices bounce around within the $70 and $80 range. Range-bound traders have been able to capitalize on these moves while trend traders have been struggling.
Technical analysis
The gap has been filled that we mentioned last week. The bears have taken over for the time being, so the next target is the support zone at $70. A move from here would give us over 500 points, but wide stops will need to be respected. We can capitalize on the range-bound price action we have seen this year instead of trying to predict which way CL will break.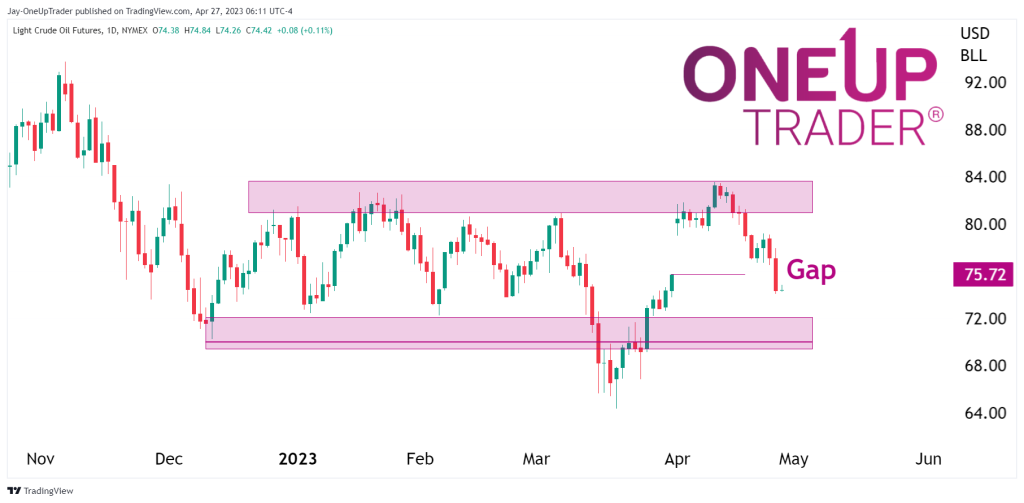 Oil trader story
In the early 2000s, there was a crude oil trader named Andy Hall, who worked for the Swiss commodity trading firm, Phibro. Hall had a reputation for being one of the best traders in the business and was known for making some very profitable trades.
In 2008, Hall made a bet that oil prices would rise, despite a global recession that had caused oil prices to plummet. Many investors thought he was crazy, but Hall had done his homework and believed that demand for oil would eventually pick up as the global economy recovered.
Hall's bet paid off big time. By the end of 2008, oil prices had risen from $34 a barrel to over $140 a barrel, and Phibro had made a profit of over $1 billion on oil trades alone. Hall himself earned a bonus of $100 million that year.
While Hall's trades were controversial and some criticized him for contributing to the high oil prices that were hurting consumers, there is no denying that his bets were incredibly profitable.