Corporate America reports better-than-expected earnings, boosting stock prices.
Markets are pricing a lower Federal Reserve target rate.
Investors are neutral, pending the FOMC meeting minutes.
Tuesday saw a slight decline in US stocks due to slightly downbeat Walmart and Home Depot reports. Meanwhile, investors are cautious due to signals of a weakening global economy.
The world's largest retailer, Walmart Inc., saw a 3.3% increase in pre-market trading as it revised its full-year profit prediction downward.
Even though the home improvement retailer posted comparable quarterly sales that exceeded analysts' expectations, Home Depot Inc. dipped 1.1%.
Wall Street futures have recovered some of their steep losses in recent weeks on evidence that inflation has peaked. They had a difficult start to the year due to concerns that rising prices and rates would send the US economy into a recession.
From its mid-June lows, the tech-heavy Nasdaq index has recovered by around 24%.
US stocks have recently benefited from corporate America's better-than-expected earnings, with 77.6% of S&P 500 companies reporting results as of Friday exceeding analysts' expectations, according to Refinitiv data.
Investors have recently been hopeful that the Federal Reserve will be able to provide a "soft landing" for the economy as it tightens monetary policy and raises interest rates to lower inflation that has been decades high.
Markets are pricing in a lower target rate for the Federal Reserve, showing increased hope that they might not need to raise interest rates as much.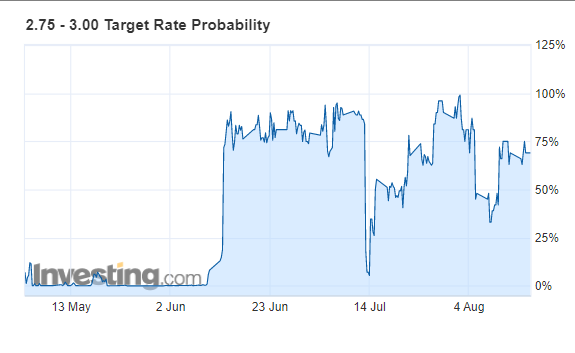 While the chances of a 2.75%-3.00% target rate are going up, the chances of a 3.00%-3.25% target rate are going down.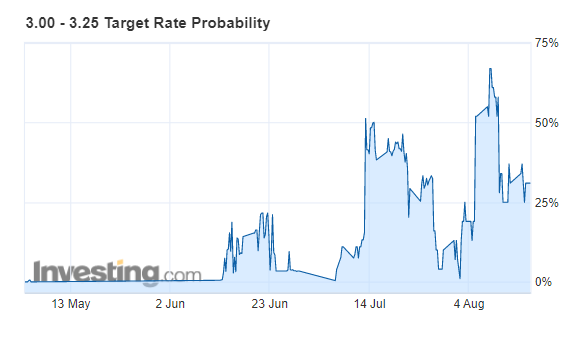 "When you transition from a bear market to a bull market, especially one where the Fed is raising rates, and there are concerns over the consumer, you want to see consumer discretionary underpinned by enthusiasm. And today's move in discretionary names is positive for the market," said Quincy Krosby, chief global strategist for LPL Financial in Charlotte, North Carolina.
According to BofA's monthly survey of global fund managers in August, investor sentiment is still pessimistic. Still, it is no longer "apocalyptically" so.
This week, the emphasis will be on retail profits and sales data to provide additional insights into the effects of inflation on consumer behavior. Investors will also be paying attention to the FOMC meeting minutes later today.
.