BoC might raise rates by 50bps in September.
Canada's inflation is showing signs of peaking.
Falling commodity prices are hurting Canada's economy.
The Canadian dollar remains under pressure amid a stronger greenback. This year, the BoC has already increased rates four times. To combat four decades of excessive inflation, it most recently raised the benchmark lending rate by 1% in July, which was the highest rate increase in more than 20 years.
The trajectory of future interest rate increases may significantly impact the direction the Canadian dollar (6C) futures prices take in the future. Three more monetary policy sessions for the BoC are scheduled for 2022, with the immediate one scheduled for September 7. The macroeconomic statistics will determine whether the BoC keeps escalating its rate hikes.
Sal Guatieri, the senior economist at BMO Capital Markets, predicted a 0.5% increase in interest rates in September due to the weakening Canadian economy.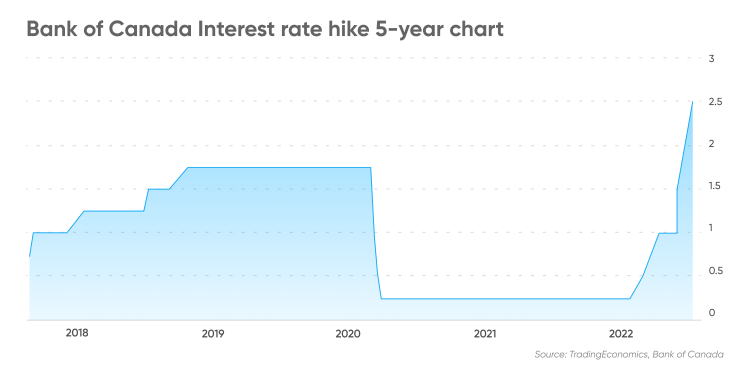 Inflation in Canada moderated in June, with the Consumer Price Index (CPI) rising at a lower-than-anticipated 0.7%, weaker than the 0.9% increase estimated and down from the 1.4% increase in May. On an annualized basis, inflation increased by 8.1%, a new 40-year high, but less than the expected 8.5%.
The report raises optimism that regional inflation may have peaked, relieving pressure on the BoC to raise rates rapidly throughout the rest of the year.
Canada's growth has significantly decreased in the meantime. For the second consecutive month, there was no growth in the Canadian economy in May.
High commodity prices, high consumer savings, and high job vacancy rates might prevent a recession in Canada. In July, Canada's unemployment rate dropped to a record-low 4.9%, and there are plenty of open positions in every sector of the economy.
As corporate earnings have continuously increased due to the rise in commodity prices, government income and company investment have also increased.
Canada's top export is oil, and the value of the Canadian currency is directly tied to US crude oil prices. The Canadian currency increased as oil prices rose during Russia's invasion of Ukraine.
It is important to note, however, that oil prices have been under pressure more lately due to mounting worries about a worldwide economic downturn that is harming the forecast for oil demand. If these worries continue, the Canadian dollar could suffer some price declines.