Investors were cautious ahead of the US inflation report.
Economists predict a headline increase in US inflation of 3.3% for October.
Moody's downgraded its outlook on the US credit rating to "negative" from "stable."
On Monday, US equities closed slightly lower as investors anxiously awaited a crucial inflation reading that could influence the duration of high interest rates by the US Federal Reserve.
Following a strong rally on Friday, attention shifted on Monday to the Consumer Price Index (CPI) data scheduled for release on Tuesday morning.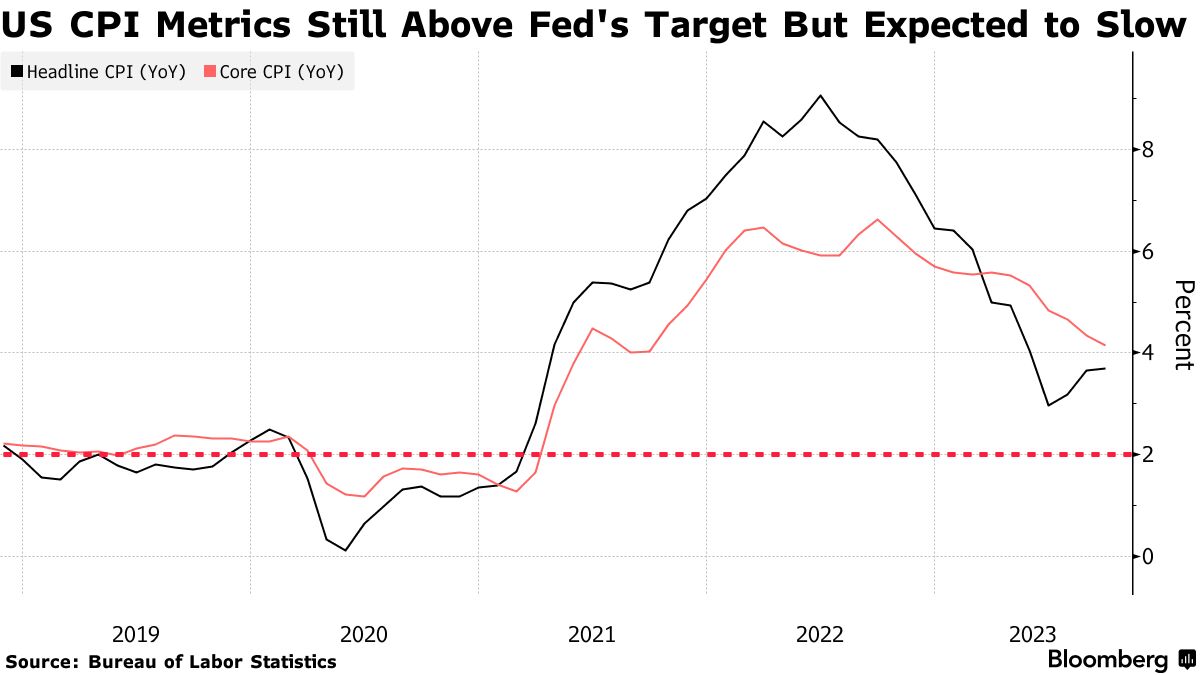 US CPI (Source: Bureau of Labor Statistics)
Economists predict a headline increase of 3.3% for October, a slight decrease from the 3.7% recorded in September. Core prices will likely remain unchanged from the previous month.
Matt Stucky, a portfolio manager for equities at Northwestern Mutual Wealth Management Company, emphasized the significance of the CPI reading. He stated, "It is clearly in the driver's seat for what matters to financial markets because it dictates where Fed policy goes from here."
Stucky noted that the market's expectation that the Fed had concluded interest rate hikes depended on sustained progress on the inflation front and a cooling labor market. Traders have priced in an almost 86% chance that the Fed will maintain interest rates in December.
On Friday, Moody's downgraded its outlook on the US credit rating to "negative" from "stable," citing significant fiscal deficits and decreased debt affordability. Consequently, investors were cautious in making significant decisions ahead of a potential US government shutdown.
There was caution despite a positive start to the month driven by better-than-expected earnings and optimism about US interest rates reaching their peak.
Meanwhile, European equities experienced a broad-based rally on Monday as market participants focused on key economic data throughout the week. There will be inflation figures from the US and the Eurozone.
Investors are also watching the meeting between US President Biden and China's President Xi Jinping during this week's Asia-Pacific Economic Cooperation summit in San Francisco.
In the UK, the FTSE 100 had a solid beginning to the week, led by insurers following a forecast upgrade for Phoenix Group. This week, investors are also awaiting economic figures, including inflation readings from the UK and the US, for further insights into the interest rate trajectory.
According to a Reuters poll, the UK's October inflation report on Wednesday will likely decrease to 4.8% from the 6.7% recorded in September.