Investors are expecting Google and Microsoft earnings reports later in the week.
Walmart slashed its forecasts on Monday.
On the charts, the price has found support at the 30-SMA.
Today's E-mini S&P 500 (ES) futures outlook is slightly bearish as markets face uncertainties about earnings and the looming Federal Reserve rate hike. Tech companies like Google and Microsoft are expected to report their earnings later today. Facebook owners Meta, Apple, and Amazon will also report later in the week. These stocks have a total market cap of around $7.5 trillion.
Deutsche Bank's Reid pointed out. "Although with these five stocks being down between around -13% (Apple) YTD to around -50% (Meta), with the other three down around -20 to -25%, this figure would have been closer to $10 trillion at the start of the year."
"The key question we have as these earnings come out is how much pricing power do these (consumer-facing) firms have," said Diamond Hill international equities portfolio manager Krishna Mohanraj, referring to the pressures of higher inflation.
US retailer Walmart's shares were down 10% after slashing its forecasts on Monday due to rising inflation. On the other hand, Unilever raised its full-year profit forecasts in Europe due to CEO Alan Jope's "strong pricing to mitigate input cost inflation" statement.
At the same time, markets have lowered bets on a higher rate hike from the Fed to a 10% chance. However, a 75bps rate hike will still hurt the US economy.
"We are leaning to the view that 75 bps is most likely but won't be the end unless they see some demand destruction and some tempering of inflation," said John Milroy, an investment adviser at Ord Minnett.
E-mini S&P 500 (ES) futures technical outlook: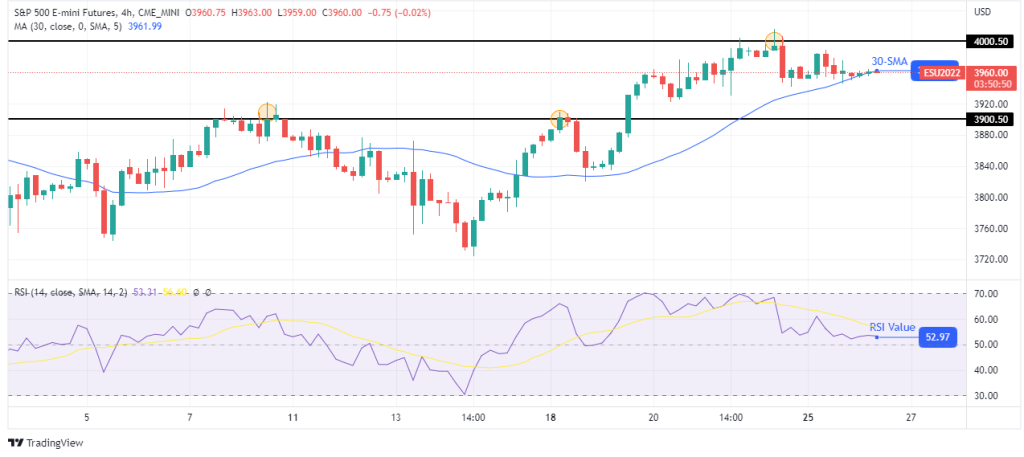 Looking at the 4-hour chart, we see the price at the 30-SMA after finding resistance at the key psychological level at 4000.50. The RSI is barely above 50, showing bullish momentum is not as strong as before. The price is forming small-bodied candles, indicating indecision.
At this point, bearish momentum might push the price below the SMA. However, if the bulls can get strong again, the price might bounce off the SMA and retest the 4000.50 critical psychological level. A break below the SMA would find support at 3900.50, which acted as resistance on July 18.