Central bank chiefs are committed to taming inflation despite the economic consequences.
Investors worry that Q2 will be just as bad as Q1.
The bears are dominating the market on the 4-hour chart.
E-mini Nasdaq 100 (NQ) futures outlook today is bearish as investors' risk sentiment has dried up amid recession worries. At a meeting in Portugal this week, central bank chiefs from the US, Europe, and England voiced their commitment to fighting inflation at a meeting despite the economic consequences. It was yet another warning to investors about rising interest rates.
The warning hit home, and investors scrambled to the safety of the US dollar.
"Fed Chair (Jerome) Powell and the FOMC (Federal Open Market Committee) don't want to get this one wrong. They want to be 90% sure that inflation is on the way down, not evenly balanced. So the signals they send become increasingly hawkish when they see the market as possibly prematurely pricing in victory over inflation," said Steve Englander, Standard Chartered's head of global G10 FX research.
Nasdaq futures fell as there was no sign that the new quarter would be any better. Is it possible to recover from this collapse? Some analysts believe a rebound might be on the horizon.
"It is not that we think that the world and economies are in great shape, but that an average investor expects an economic disaster. If that does not materialize, risky asset classes could recover most of their losses from the first half," JPMorgan wrote in a research note.
The US dollar is the show's star as investors look for liquidity in these uncertain times.
E-mini Nasdaq 100 (NQ) futures technical outlook: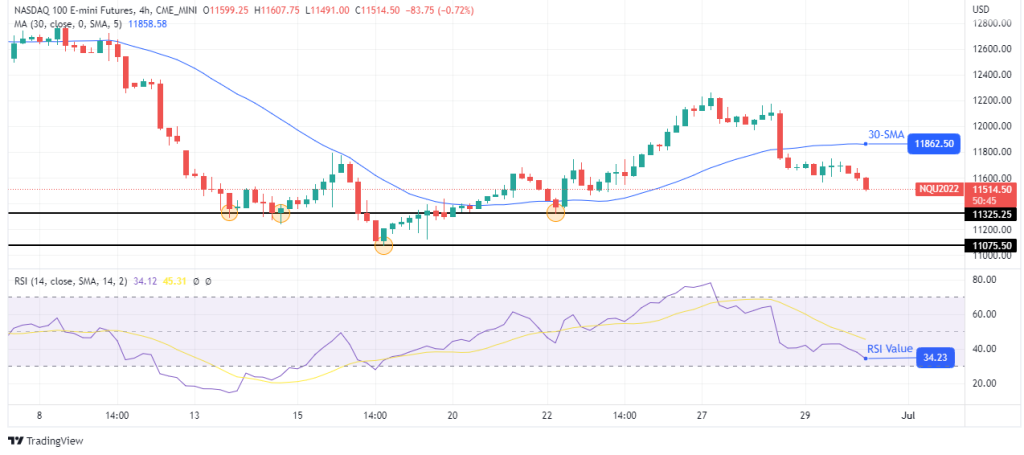 Looking at the 4-hour chart, the bears are in control as we see the price of ES pushing lower after breaking below the 30-SMA. The RSI is trading below the 50 level, also favoring bearish momentum.
The price might keep dropping to the June 22 support at 11325.25 before the bulls attempt to push it higher. If bullish momentum comes in at any point in this move, the price might get resisted by the 30-SMA. Otherwise, we may see the price push further to the downside to retest the 11075.50, which acted as support on June 16.