Inverse Head and Shoulders Breakout: Bulls Firmly in Control as ES Surges.
Managing Bullish Positions: Tracking the Progress of the Inverse Head and Shoulders.
Targeting $4,807.50: Technical Analysis Points to Further Upside Potential on ES.
Update
On May 29th, we looked at the inverse head and shoulders breaking out of the neckline. Today we look at how that trade is going and what bulls could do to manage their position moving forward.
ES has surged through the neckline, now up 7.5% from the last technical article we did. Bulls are firmly in control, and I personally see no bearish case on the chart at all. Traders could ignore all short signals and take the probabilistic approach of sticking to long trades since the technicals appear to be in the bulls favor.
The target of $4,807.50 is still on the cards. I have shown that in the chart below. We may see a pause as we continue higher, but technicals are pointing upward.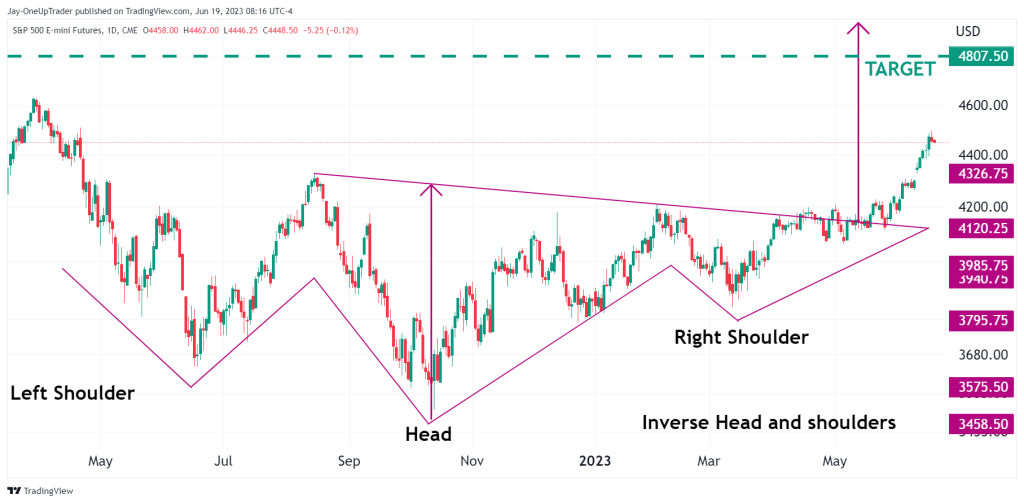 RSI overbought but not a bearish sign
The RSI is heavily overbought on the daily chart, but because we are in a trending market and breaking out of an inverse head and shoulders, we take this as a bullish sign. It shows the tremendous amount of demand in the marketplace right now. For traders looking to chase this market higher, they could ignore longs for now and wait for the RSI to come to a reasonable level again, say 65 instead of where it is currently at 73.