RTY's downward move continues with heavy resistance impact and aggressive selling.
The resistance zone has the POC line, 50% Fib level, and bearish candlestick patterns within it.
Why it could be best to sit on our hands.
Recap
We pick up from where we left off as RTY has continued to plunge after we suspected a potential triple top last week. The sell-off has accelerated and a likely cause of that is the volume profile point of control line. This aggressive selling could also be the result of the formation of a bearish engulfed on the daily chart within the resistance zone and the rejection off the 50% line, all of which we will analyze in this week's technicals on the Russell.
Technical analysis
Resistance: The resistance zone marked on the chart below in red has seen the formation of a triple top. It is important to note that there was no prior up trend to this formation, so the downside is limited compared to if there was a strong up trend before the creation of the pattern. This level is significant for a few more reasons:
Point of Control: The POC for the volume profile line is within this resistance zone which added further fuel to the bearish case last week.
50% Fib Level: The 50% Fib level also comes within this zone.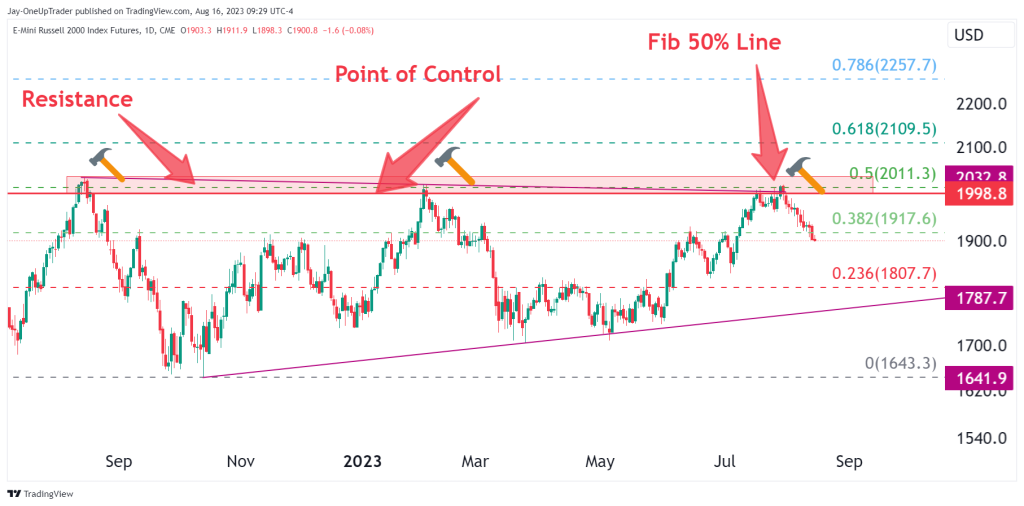 Bearish Candles
There 3 important bearish candles that gave us potential entries as the price moved into the resistance zone. I have zoomed into the chart to show the formation of a bearish engulfer, a red lightsaber, and a hanging man pattern, all of which we could have taken shorts from.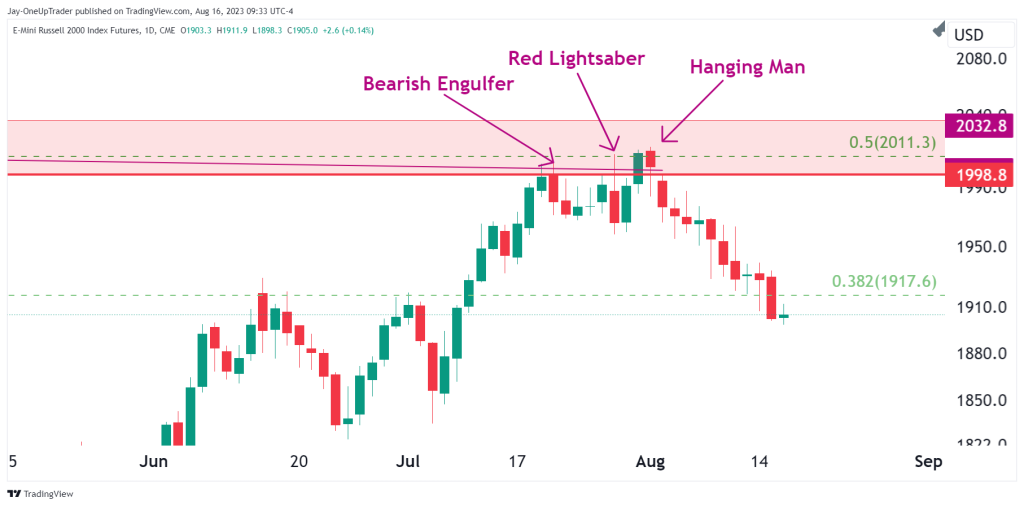 Dark Cloud Cover: It forms after an uptrend and consists of two candles. The first candle is a strong bullish one, followed by a second bearish candle that opens above the first candle's close but closes below its midpoint. This pattern suggests potential trend reversal and warns of a potential downturn in the market.
Bearish Engulfer: It forms when a small bullish candle is followed by a larger bearish candle that completely engulfs the previous candle's body, indicating a potential trend reversal to the downside.
Red Lightsaber: It forms when price breaks well above the high of the previous candle and after an uptrend. It closes below the low of the previous candle and is usually 2 or more times greater than the surrounding candlesticks.
Ending Off
Let's wait and see where RTY finds support. Taking longs here is very risky as it would be catching a falling knife. We are better off waiting for a consolidation phase or support at the 23% level. It may be the best time now to just sit on our hands.