Bulls have finally broken through the down-trend channel
Fibonacci levels that bulls are targeting
Interesting story about an NQ futures trader
What's going on
NQ futures broke out of the downtrend channel back on January 20th and has remained above it since. There is a lot of optimism in the market at the moment as investors expect the Fed to slow down on its aggressive interest rate policy. There are a few significant technical factors we can monitor now as we move closer to the Fed meeting next week.
Technical Analysis
Looking at the daily chart, there is a potential double bottom forming, but we need to see price clear $12,112 and remain above that before we can know for sure. If this double bottom does play out, the targets are for a bullish move to $13,259, which is the Fib 50 level.
Drawing a Fib retracement from the 2022 high to the low, it gives us very clear targets to the upside. Traders and investors need to be mindful of keeping their stops wide enough to not choke the trade as price discovery commences. The 0.382 Fib level is the next target at $12,544.50.
The 200 moving average is currently at $12,050, and NQ is trading at $11,960 at the time of writing. We could see additional selling pressure as the moving average is likely to act as resistance in the near term.
These technicals all rest on the fact that the Fed will indeed adopt a hawkish tone. If Powell surprises and gives the impression that he is not impressed with recent inflation data, it's likely we will see markets plunge. This is not a likely outcome, however.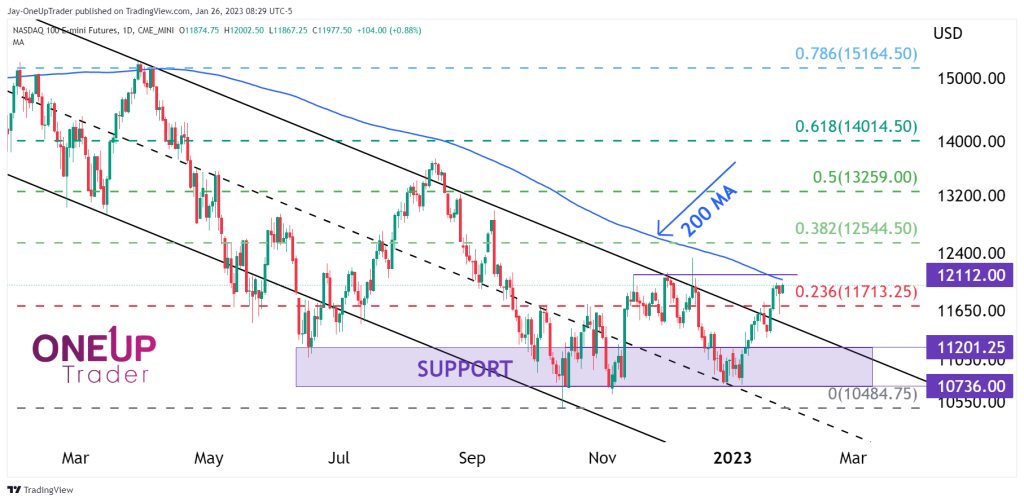 Mark Minervini
Minervini is a highly successful trader who has consistently achieved returns of over 30% per year for more than two decades. He attributes his success to his ability to identify and capitalize on market trends, as well as his strict risk management practices. Minervini is also a best-selling author and a popular speaker on the topic of trading. His story is often cited as an inspiration for aspiring traders and a testament to the potential for success in the field of NQ futures trading.
Read through his strategy here.