Breaking down how the dow jones diverged from other market indices last year.
Analyzing the symmetrical triangle formation on the daily time frame.
A true story about a trader who turned $5,000 into $15,000,000 in seven years.
Quick Breakdown
The Dow has been trading sideways for the majority of this year, remaining unchanged so far. This is probably because YM diverged significantly from the other indices last year as it rallied, and the likes of NQ and ES lagged behind.
Technical Analysis
The symmetrical triangle formation on the daily is the most prominent technical piece we can monitor on the YM chart. Support for the formation is currently at $33202, and resistance is at $34369. Range-bound trading strategies may be a fruitful way to take advantage of this pattern as we assume price will remain inside the triangle for a little while longer.
Dow futures are also significantly above the 100-day average, whereas the likes of NQ is only tested the 200-day moving average as resistance, as you can see in yesterday's analysis. This shows us just how much YM has diverged from the market.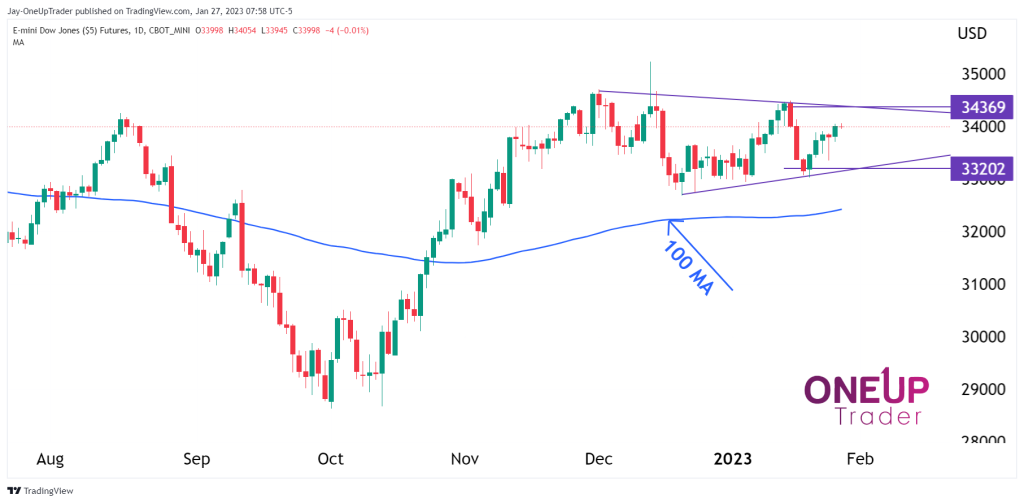 Dow Jones Trader
A true story of a trader who traded Dow Jones futures is that of Ed Seykota. He is a trader and former commodity broker who is known for his success in the 1970s and 1980s. Seykota developed his own trading system based on the principles of trend following and risk management and used it to trade a variety of markets, including Dow Jones futures. He reportedly turned a $5,000 account into over $15 million over a period of several years. Seykota is also known for his work on trading psychology and the importance of developing a trading system that aligns with one's personal beliefs and values. He was one of the first traders to use computers for trading, and he wrote a book called "The Trading Tribe," which explains how to develop a successful trading system.