The BoJ remains unfazed amid a wave of rate hikes by other major central banks.
Japan's Ministry of Finance disapproves of the yen's decline.
The US dollar is more attractive to investors who are dumping yen futures.
Japanese Yen (6J) futures prices hit a 24-year low last week and look set to fall further. Despite this alarming decline, the BoJ remains firm on its ultra-loose monetary policy. There is no sign that the central bank will raise rates soon to support the yen. Last week, the country's top foreign exchange diplomat strongly hinted at this message.
The government, particularly the Ministry of Finance (MOF), has expressed its displeasure with this year's currency declines numerous times. On September 7, the Japanese yen (6J) futures fell as low as 0.0069, down 30% since the end of 2021.
However, the central bank is independent and required by law to focus on inflation and the status of the economy rather than the exchange rate.
The primary cause of the yen's decline is BoJ's ultra-low interest rate policy. In contrast, other central banks, most notably the US, have been tightening their monetary policy aggressively. This has made the dollar a more attractive investment option.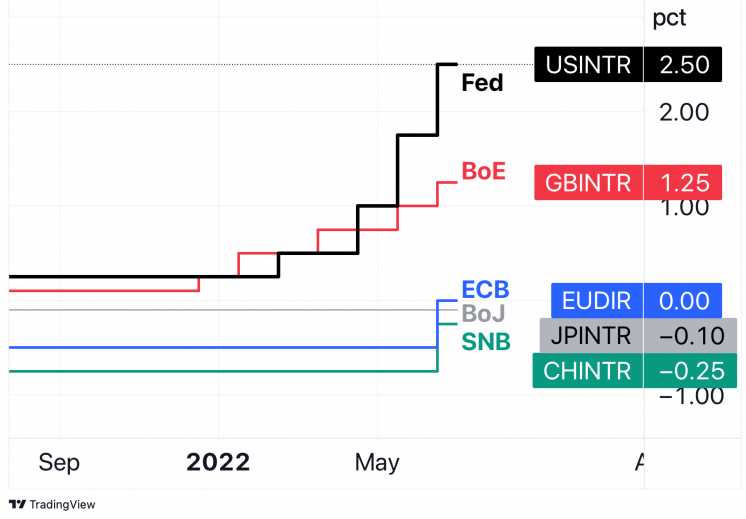 The Fed is leading the curve at 2.50%, while the BoJ is still at -0.10%. Other central banks like ECB and SNB have started hiking their interest rates.
"The BOJ won't directly target currency rates in guiding policy," said a Reuters source. "It looks at yen moves in the context of how they affect the economy and prices."
"Current economic conditions don't justify tweaking ultra-loose policy," he added.
Recently, the BoJ has been warning about the yen's sharp decline. However, in July, Kuroda said, "It's hard to believe that just by raising rates somewhat, you can stop the yen's decline."
The MOF is believed to be using its authority to try and persuade investors to stop selling the yen. It does this by showing its disapproval of the yen's decline, giving the impression that it would intervene in the market to strengthen the currency.
The BOJ has no incentive to withdraw the monetary stimulus weakening the yen, given the weak state of Japan's economy. At its meeting on September 21 and 22, the central bank is expected to retain its dovish policy stance and ultra-low interest rates, which could only mean lower prices for Japanese yen (6J) futures.