BoJ intends to maintain its ultra-loose monetary policy.
BoJ will not intervene to stop the yen's recent sharp declines.
The Federal Reserve may continue to raise rates.
The Japanese Yen (6J) futures continue to lose ground as one of the Bank of Japan's board members stated that the central bank must continue its massive monetary stimulus and dovish policy guidance until wages increase more noticeably. This statement further solidified the central bank's position as an outlier in a global wave of monetary tightening.
When asked if the BOJ sees room to modify its dovish forward guidance that projects interest rates will move at "current or lower levels," board member Toyoaki Nakamura responded at a news conference, "We're not quite there yet."
"It's not right for Japan to join the global rate hike competition now," Nakamura said, stressing the BOJ's resolve to keep supporting the economy.
As it focuses on assisting Japan's sluggish recovery from the pandemic's effects, the BOJ has refrained from joining a flurry of rate hikes by central banks fighting historic price surges.
BoJ continues to have a dovish tone on the direction of future monetary policy. As inflation increases, some observers predict the BOJ may change its policy to one that is more neutral.
In his speech, Nakamura claimed that supply issues, a recent uptick in pandemic cases, and steadily rising global commodity prices overshadow Japan's economic prospects.
Nakamura noted that market fears over major central banks' aggressive rate hikes to combat excessive inflation might lead to a capital flight from emerging nations, harming the global economy.
According to Nakamura, the slow wage increase is a significant factor in why Japan's consumer inflation, at 2.4%, is far lower than the over 8% rates observed in the United States and Europe.
He also ruled out the possibility of adjusting Japan's extremely low-interest rates to stop the yen's declines against the dollar, claiming that the BOJ is powerless to stop a trend primarily caused by rate hikes in the United States.
His speech shows that the monetary policy divergence between the US and Japan will keep growing, darkening the outlook for the yen's future. The Federal Reserve is not stopping anytime soon. Powell was direct: inflation must be tamed, regardless of the consequences.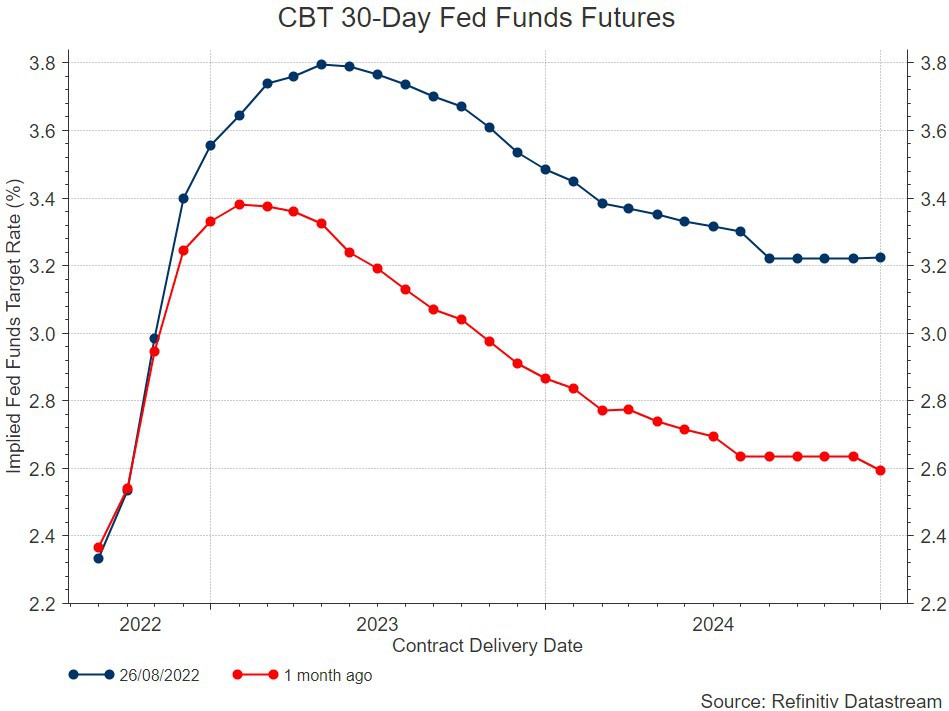 The figure above clearly states that the Fed Funds rates are gradually increasing as of Aug 26, 2022, while a one-month earlier projection saw a decline to 2.6. This is a strong bullish indication for the US dollar.