Investors are getting ready for a week of significant quarterly results.
Investors are looking forward to the US PCE report on Friday.
European equities have increased by 2.4% so far in April.
US equities shuffled to a mixed close on Monday, with interest rate-sensitive momentum shares weighing on the Nasdaq. Investors prepared for a week of significant quarterly results and eagerly awaited economic data.
Robert Pavlik, senior portfolio manager at Dakota Wealth in Fairfield, Connecticut, stated, "People are unsure about what this week holds, especially regarding earnings. Today highlights that there are many things to be cautious of. There isn't much going on."
Investors are expecting a lot of important economic data from the US. They include the Commerce Department's preliminary estimate of first-quarter GDP, a flurry of housing statistics, and industrial output. The week will end with the highly regarded and comprehensive Personal Consumption Expenditures (PCE) report. It tracks income, expenditure, and inflation.
Since the PCE is the Fed's preferred inflation indicator, everyone is looking forward to the report on Friday.
European equities closed flat on Monday at the start of a week jam-packed with high-profile earnings. At the same time, shares of Dutch health technology company Philips rose following good first-quarter results.
Philips saw a 13.8% increase after reporting better-than-anticipated first-quarter profits. The company announced that it had put aside 575 million euros ($631 million) for lawsuits relating to the recall of respiratory devices.
Credit Suisse reported that 61 billion Swiss francs ($68 billion) in assets left the bank in the first quarter as outflows continued. This is likely the bank's last time reporting results. Its state-engineered marriage with UBS is expected to be finalized shortly.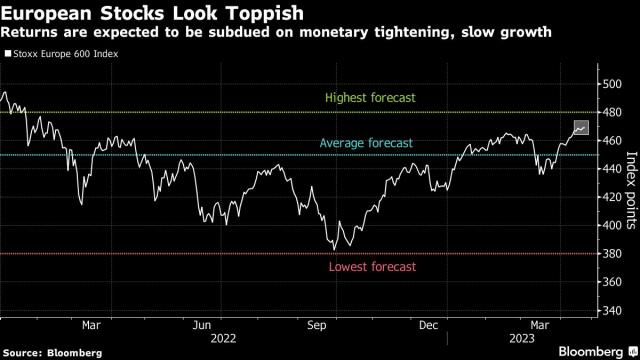 European equities have increased 2.4% in April, marking their best monthly performance since January after a turbulent month in March. Cheap valuations and China's reopening bets have helped corporations.
However, some believe the peak for European shares is nearby. Returns are expected to be poor due to high rates and slow growth.
Ahead of a busy earnings week, the London Stock Exchange's FTSE 100 index closed Monday's session unchanged. However, shares of telemedicine services provider Medica Group reached a more than five-year high on a buyout agreement.
The FTSE 100 recorded its longest string of weekly increases in more than a year the previous week when it rose for the fifth straight week.