The US dollar fell on Monday as market sentiment improved.
Yen futures rose on news that Japan will explore changing its monetary policy.
The outlook for Europe's largest economy brightened in December.
Currency futures prices rose on Monday as the US dollar fell and market sentiment improved, lifting stocks and riskier currencies. Yen futures rose on news that Japan will explore changing a decade-old strategy for combating deflation.
The dollar index, which measures the dollar value against a basket of six major currencies, dropped 0.2% to 104.580. It reversed some of the gains it had made the previous week after the European Central Bank (ECB) and the US Federal Reserve raised interest rates and signaled future increases.
The safe-haven dollar has generally increased this year, up 9% on worries about the world economy and widespread inflation. But as investors speculated that peak inflation and an economic rebound might be around the corner, it fell by almost 7% in the fourth quarter.
According to sources, Japan is reportedly considering changing its monetary policy when a new governor of the Bank of Japan is installed in April. This helped the Japanese yen rise 0.2% on the day.
According to reports, the administration would consider amending a joint declaration it signed in 2013 that requires the central bank to attain a 2% inflation objective as soon as possible.
Elsewhere, Luis de Guindos, vice-president of the ECB, stated on Monday that the eurozone would keep raising interest rates to combat inflation and has no plans to change its own 2% mid-term inflation target.
Despite the energy crisis, the outlook for Europe's largest economy brightened in December, as seen by a survey of business sentiment in Germany that revealed a larger gain than anticipated.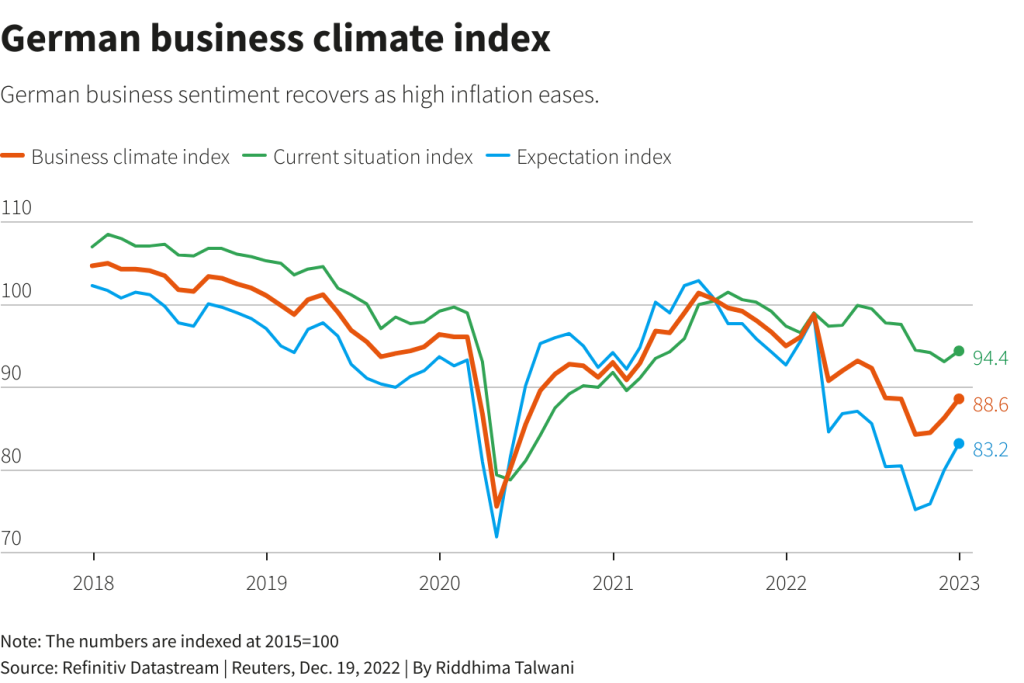 The Ifo institute reported that its business climate index increased to 88.6 from a revised reading of 86.4 in November, exceeding the 87.4 expectation made by analysts.
Indicators tracking how businesses rate their expectations and existing status revealed higher increases than anticipated. According to Ifo President Clemens Fuest, German firms have a positive outlook as they approach the holiday season.
There are increasing indications that the German economy may be able to withstand the worst of a slowdown brought on by a drop in the Russian energy supply following the invasion of Ukraine, which would support the euro.