Following Wall Street's post-holiday slump, Asian equities were mostly lower on Wednesday as investors count down to the end of a tough year.
After easing its strict "zero-COVID" policy, the Chinese government boosted stocks in Hong Kong, Tokyo, Shanghai, and Seoul after taking further steps to resume overseas travel.
The Chinese government announced a key step towards eliminating antivirus barriers to travel: the issuance of new passports. As a result, Chinese tourists will likely flock to Asia, Europe, and other destinations during next month's Lunar New Year holiday, which is usually one of the busiest seasons for tourism in China.
Due to widespread virus outbreaks in China, India and Japan are introducing extra precautions for visitors from China. According to US officials who spoke on the condition of anonymity to relay internal discussions, similar action is being considered.
The reopening of China's economy has excited investors. The supply chain is under threat because of the increase in COVID cases in China, according to Avatrade's Naeem Aslam.
Hong Kong's Hang Seng rose 1.3% to 19,851.72 points. A 0.2% drop in Shanghai Composite Index to 3088.35 points saw it lose points previously gained.
A government report says industrial production in Japan declined for a third month in November and is likely to fall further in December, bringing the Tokyo Nikkei 225 down 0.4% to 26,340.50. Seoul's Kospi fell 2.2% to 22,804.55.
A decline of 0.4% in the S&P 500 on Tuesday led to a closing price of 3829.25 on Wall Street.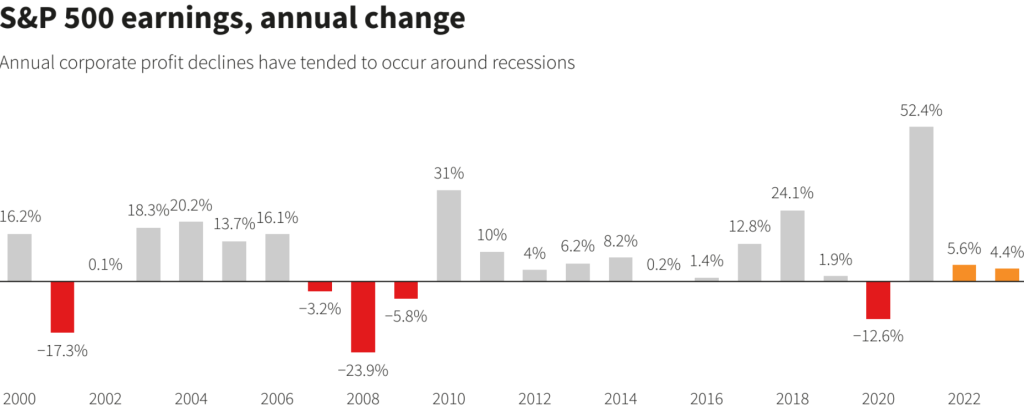 Despite a 0.1% rise in the Dow Jones Industrial Average, the Nasdaq fell 1.4% to 10,353.23.
A large portion of the decline in the S&P 500 can be attributed to technology and communications services companies. There was a 1.4% decline for Apple and a 3.7% decline for Netflix.
It has been a terrible year for airline stocks. Several airlines canceled flights over the weekend due to a severe winter storm. There was a 0.8% decline in Delta Air Lines shares, a 1.4% decline in American Airlines shares, and a 1.1% decline in JetBlue shares.
Approximately two-thirds of Southwest Airlines flights were canceled recently due to staffing and weather problems. As a result of the company's lag behind other carriers, the federal government said it is investigating the problem.
S&P 500 stocks fell 11.4%, with Tesla falling the most. According to published reports, the electric carmaker has temporarily halted production at its Shanghai plant.
After the Christmas holidays, the US bond market reopened with mostly higher Treasury yields. Mortgage rates were impacted by the 10-year Treasury yield, which rose to 3.85% from 3.75% late Friday.
As investors look forward to 2023 after a dismal year for stocks, Wall Street trading is expected to be relatively soft this holiday weekend.
Inflation is at the highest levels in decades, keeping investors on their toes as they wonder how far the Federal Reserve will go to combat it. As the pace of price growth slows, the Fed has announced plans to raise interest rates again in 2023.
High interest rates have impacted stock prices and other investments, raising concerns that the economy could slow too much and slide into recession next year.
After hitting an all-time high in January, the underlying S&P 500 is now down nearly 20% for the year. A nearly 34% decline was recorded by Tech-Nasdaq.