Gold hit bearish target at $1,831 last week, no entry on retracement.
In support zone now, possible bullish reversal coming.
Watch $1,640 if support breaks, else $1,900 first target if bounce.
Quick Recap
Last week, we looked at Gold, and the bearish stance we took has proven to be correct, as the $1,831 target has been hit. Unfortunately, however, it was a difficult short trade to take because GC only painted red candles after the analysis, thus giving us no entry on a retracement. Moving forward, however, there may be bullish opportunities just on the horizon as GC has moved into a support zone.
Technical Analysis
The target has been met on the wedge pattern, and GC is trading inside a support zone. It may be too early to take a position right now, but with a bit of patience, there could be a bullish candlestick reversal we can take a long entry on. The candlestick ranges are getting smaller and smaller, which indicates that the low may be in, at least for the time being. Gold has also dropped for 8 straight sessions by significant amounts which also could indicate an oversold market.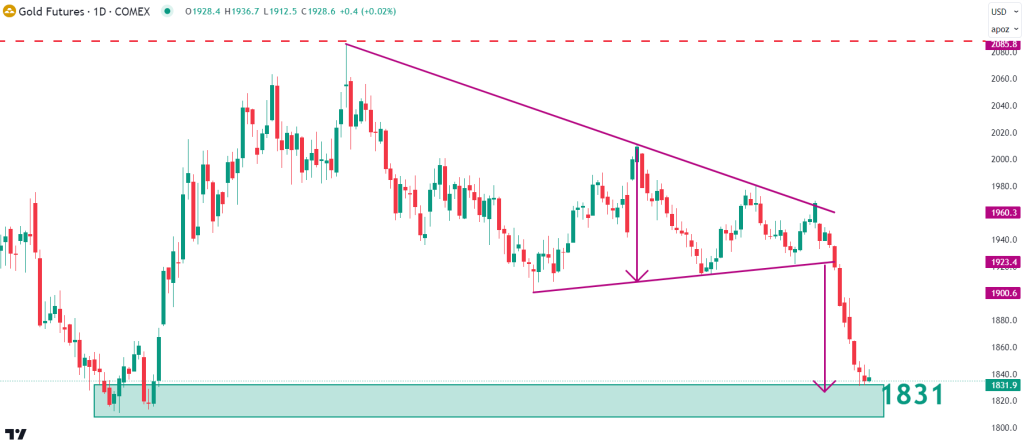 Levels To Watch
If GC falls below this current support level, the next bearish target is all the way down at $1,640. If we see a bounce from here, $1,900 would be the first bullish level to aim at, and then $1,960 after a likely consolidation phase.
Overall, the GC market is mixed but there appears to be opportunites favouring the bulls in the short term.
Are You Bullish Or Bearish On GC? Use This 15% Code To Start Trading Gold ARTI15