The RBA is expected to raise rates by 50bps tomorrow.
Australia might end the year with inflation at 7%.
Price is attempting a break above the 30-SMA.
Australian dollar (6A) futures outlook today is bullish as prices bounce off two-year lows. This move comes ahead of tomorrow's Reserve Bank of Australia meeting, which is set to raise rates from 0.85% to 1.35%. Like many other central banks, the bank is at war with rising inflation.
Inflation in Australia is currently at a 20-year peak and is expected to hit 7% by the end of the year. Investors expect the RBA to raise rates rapidly to near 3% by the end of the year.
"The Reserve Bank looks to be playing catchup with accelerating inflation. The RBA's challenge is to minimize the spillover into broader inflationary pressures. It seems awake to this challenge," noted Felicity Emmett, senior economist at ANZ.
Like in Canada, where inflation expectations have become a bigger problem than actual inflation, Australia's RBA will have to control expectations.
"The RBA has upped the ante on inflation and is working overtime to make up lost ground. But it's not just actual price rises that are cause for concern. Philip Lowe knows he only has a small window to tame expectations," said Harry Murphy Cruise, a macroeconomist at Moody's Analytics.
Australian dollar (6A) futures technical price analysis: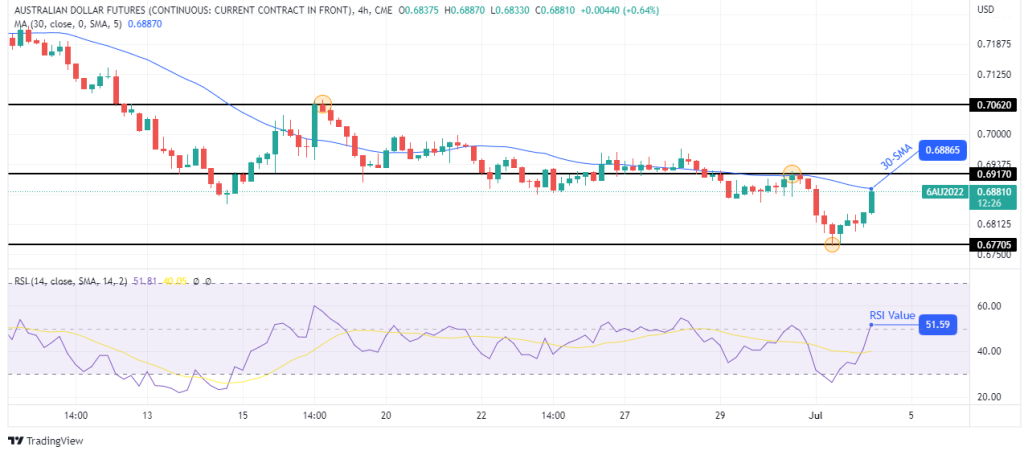 The 4-hour chart shows a lot of enthusiasm on the bullish side as the RSI has gone above 50. This bullish movement is, however, currently experiencing resistance from the 30-SMA, which has acted as resistance on previous occasions. The general trend is bearish but could change if the price breaks above the 30-SMA.
It is also important to note that right after the 30-SMA lies another resistance level at 0.69170. This level was retested as resistance on June 30, hence its significance. If bulls can beat bears at these strong levels, we might see the price rallying to the next hurdle at 0.70620. This level stopped price on June 16.
At the same time, there is the possibility that bears come in strong at the 30-SMA, pushing the price lower and continuing the bearish trend. If this were to happen, the price could retest the July 1 lows at 0.67705.