NQ Index in bullish consolidation range; potential buying opportunity.
Recent sideways movement after the August 18th bounce.
There is a possibility of an all-time high breakout, with NQ only 4.4% away.
Technical Analysis
NQ is currently stuck within a range that could be used as an opportunity to buy lows as the general market sentiment remains bullish. Once the bounce occurred on August 18th, NQ began moving sideways as traders who got in early were taking profits. Traders who missed the move have begun buying, hoping for a second leg up. If we see NQ take another leg upward, then it's likely that we will see the all-time highs broken, and this could lead to a bull market that could extend into 2024.
At the moment, NQ is only 4.4% away from all-time highs. That is an insignificant amount for an index that can move over 3% in a single day with no problem. Even though we are looking at the technicals, we need to keep in mind the general market sentiment, which remains bullish. Taking shorts now could be a risky play and is likely not the trade with the expectancy and probabilities in its favor. We should remember this when we trade our shorter-term strategies so that if the opportunity arises to go short, we can avoid those signals in light of the overall market sentiment.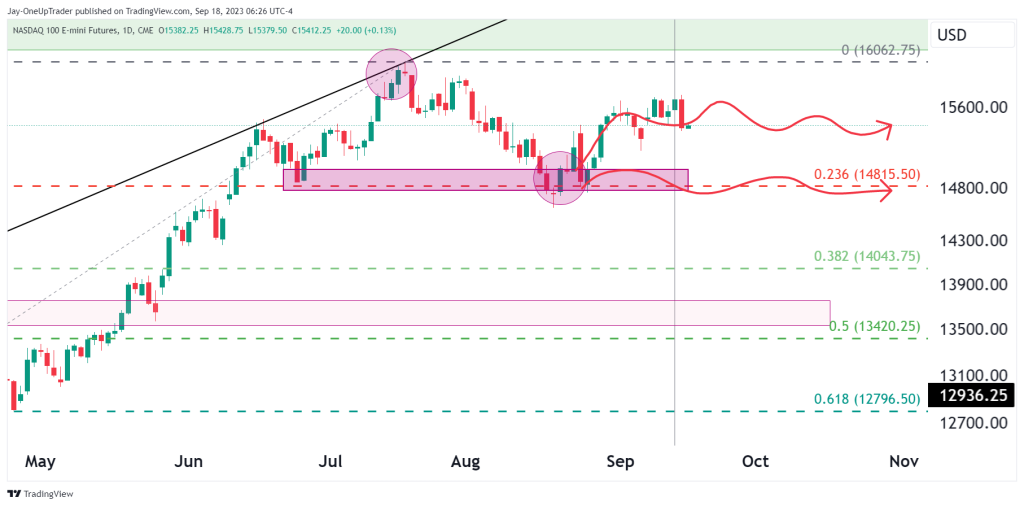 Looking at the chart above, the main question that arises is how long the consolidation phase will last. Fundamentally speaking, we need only one small catalyst to send the price higher. Technically speaking, if we assume that no new development in the macroeconomic market takes place that would shoot NQ up or down, then we could expect the consolidation phase to go on for a few weeks longer.
Levels
The $14,581 level and the all-time high of $16,062 are the most important on the chart. If the market remains above $14,581, it remains bullish, but if price drops below that, sentiment could shift bearish, or at least, we would avoid taking longs until a new trend arises.