Recap on the long trade from last week as the position is in profit.
Bullish targets set at all-time high and above.
Trade Recap
Last week we looked at a potential long trade in the Dow Jones futures as price was bouncing off the diagonal support line for the ascending triangle on the daily chart.
The market has bounced powerfully since that analysis, with an excellent risk-reward ratio position playing out right now. Take a look at that article here.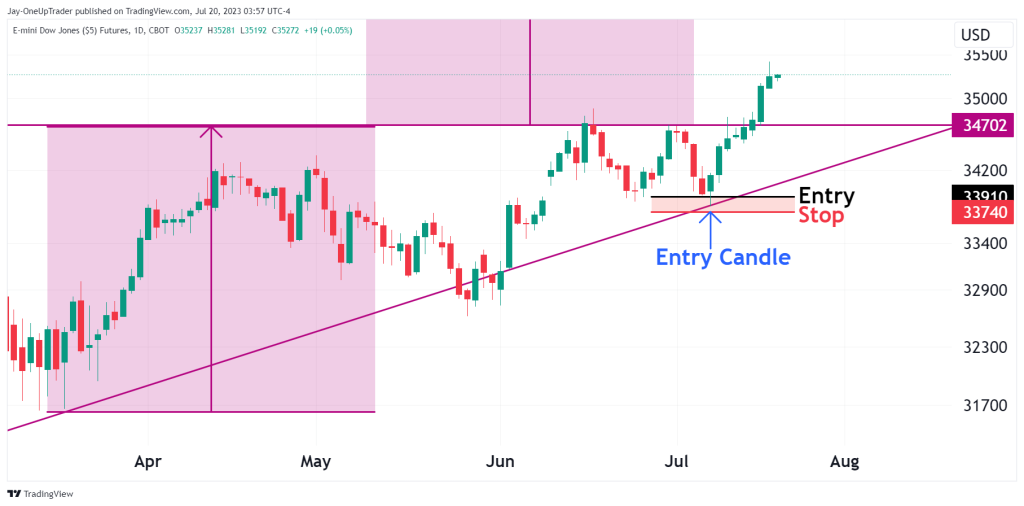 Targets
I see no bearish case for YM at the moment, except for the possibility of a small retracement to test the horizontal ascending triangle line at 34702. Price has been testing level for some time now, so I see the probability of a powerful break higher than a slow one where a retracement occurs. Mearusing a target from the ascending triangle, target 1 can be set at the all-time high of 36836. From there, a target of 38000 becomes a possibility.
Shorting the market now would be very risky as the Dollar falls and US data comes in strong. Switching into shorter time frames and looking for longs, and ignoring shorts could be the way to go from here on.