As markets digest the Fed's policy statement on Wednesday, gold futures prices have recently risen above $1,900.
Analysts said that Powell ruled out a 75 basis point rate hike in the coming months, eliminating some downside risk for gold.
Now, the focus will be on the NFP report on Friday.
As bulls continued to control the precious metal market following a less hawkish Fed statement on Wednesday, gold futures (GC) prices hit a high of $1,908.00 on Thursday.
Even though Powell maintained that rates will continue to rise rapidly as the Fed "quickly" returns monetary policy to more neutral levels to better fight inflation, he closed the move of 75 basis points higher. As a result, the price of gold may fall in the future.
On Wednesday, gold futures traded below $1,870 and surged more than 1.5% from pre-Fed levels. Some analysts believe that the Fed's refusal to raise rates by more than 50 basis points in the coming months risks leaving the bank out of the fight against inflation, further impacting gold.
Others noted that, nevertheless, there are risks. For example, inflation doesn't ease substantially as the Fed hopes. Instead, they may signal hiking rates well above the neutral interest rate level in 2023. This can result in tightening monetary conditions, and eventually gold prices may slump.
What's next to watch?
The attention of gold traders will be focused on Friday's US employment report for April. Suppose the report uncovers additional signs of rising wage pressure. In that case, it will only raise inflationary risks to US economic growth this year, raising the chances of another big Fed hawkishness later this summer. In this scenario, the gold price might soon reverse recent gains and approach weekly lows of $1,850.
Gold futures (GC) technical analysis: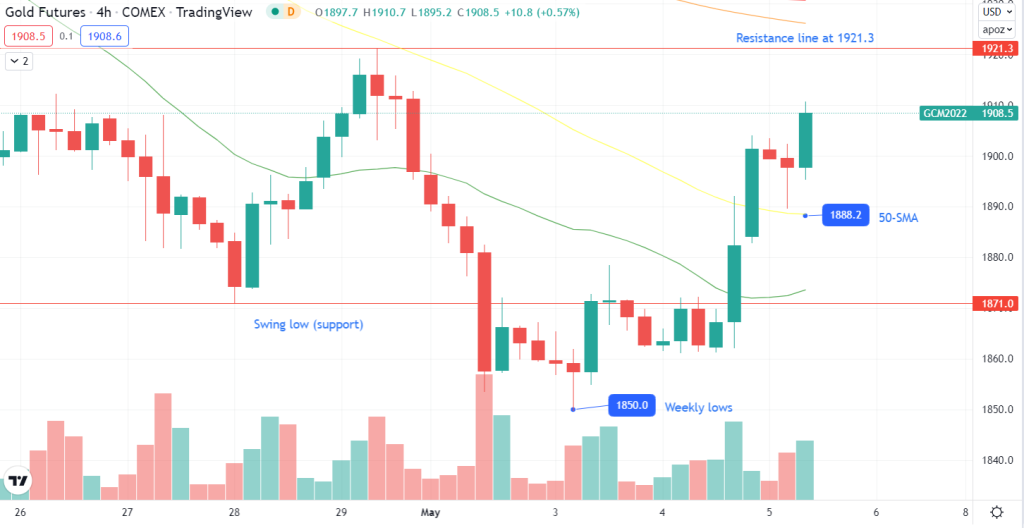 The gold futures (GC) price managed to gain beyond the psychological mark of $1,900. The outlook has slightly improved as the price jumped above the 50-period SMA. You can clearly see a bullish pin bar candle above the 50-period SMA. It indicates a potential to gain further towards the horizontal resistance of $1,921.30, which was hit on April 29, 2022.
Alternatively, if the gold price stays below the $1,900 mark, we can expect the dominance of sellers again. The price may test the swing low of $1,871 ahead of weekly lows around $1,850.