Expectations of rising prices in Canada are growing.
The Bank of Canada is trying to manage price increases and avoid self-fulfilling inflation.
On the charts, the RSI is showing signs of weakness in the bearish trend.
The Canadian dollar (6C) futures is trying to recover some ground ahead of Canada's inflation data. The pullback was due after an extended downside on Friday.
Reuters analysts say the risk of inflation becoming entrenched in Canada's economy is growing. The Bank of Canada is trying to manage inflation expectations, but the reality is that gas prices and other consumer goods are rising. Recession risks will follow in the path of rising inflation if the Bank of Canada decides to raise interest rates higher.
Derek Holt, head of capital markets economics at Scotiabank, is expecting a 7.8% rate of growth for May CPI.
"They missed their chance to nip inflation in the bud, and now you've got consumers and businesses who aren't fussing over what's driving it. They are engaging in extrapolative behavior, which is the path central banks always want to avoid," he said.
Canada's consumer price index for April was at a three-decade high of 6.8% and is expected to climb in May. Central banks dread a situation in which price increase expectations cause people to raise wage demands and push purchase prices higher, further driving the dreaded inflation.
Investors expect the central bank of Canada to follow in the Fed's path of a 75bps rate hike at its next meeting on July 13. Such a hike would be the largest in over two decades. The threat of rising inflation expectations follows an increase in Canadian gas prices in June to a new high of C$2.15 a liter.
Higher inflation could see Canadian dollar futures prices rise in expectation of a more aggressive Bank of Canada.
Canadian dollar (6C) futures technical analysis: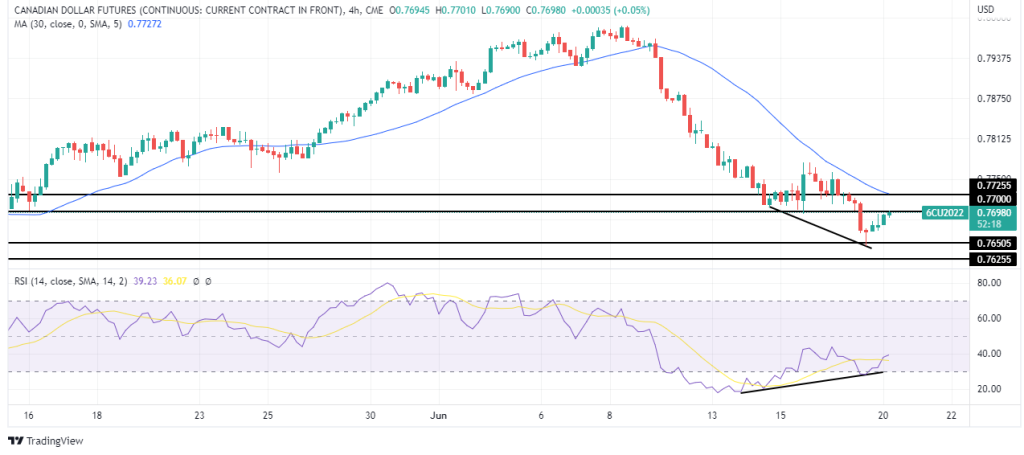 Looking at the 4-hour chart, we see the price in a downtrend. It has been trading below the 30-SMA for some time, but now, RSI is showing weakness in the bears. This weakness is shown by the divergence between the price and RSI and could lead to a break above the 30-SMA.
A change in the direction of the trend will be confirmed when the price breaks above the 30-SMA and RSI starts trading above the 50 level. For now, bears are in charge, and they could regain enough momentum to push the price lower if the price cannot break above the SMA.