ES-mini S&P 500 (futures) struggles to post gains, maintaining a bearish trend.
Fed's aggressive tightening and hot inflation reading weigh on the US and global stocks.
Russia's war and Covid in China keep the risky assets under pressure.
On Wednesday, the E-mini S&P 500 (ES) futures contract fell 0.7% after the stock indicator fell to its lowest since March 2021.
Equity markets and futures of US stock indexes fell as persistent inflation in the world's largest economy led the Federal Reserve to tighten monetary policy more aggressively.
Government bonds also rose on safe-haven demand as the dollar climbed for a sixth straight day. After softening growth forecasts, Walt Disney Co. shares fell in New York premarket trading.
Inflation readings for April were higher than expected, raising fears that the Fed's rate hike is not bringing prices down fast enough, and policymakers may need to resort to a three-quarter point change rather than a half-point increase. Moreover, combined with Russia's war in Ukraine and China's fight against COVID, economic growth and risky assets will be negatively impacted.
Mona Mahajan, the senior investment strategist at Edward Jones & Co., said on Bloomberg Television, "Until we have a significant reduction in inflation, we can remain in a range."
All of the Group of 10 peers except the Japanese yen fell against the dollar on Thursday. Bloomberg's estimate of dollar strength rose to its highest level since May 2020. In the meantime, Treasuries rose according to a curve, with the 10-year rate falling 9 basis points.
This is the longest losing streak since 2008, as the MSCI Inc World Equity Index fell to its lowest level since November 2020.
Virginie Maisonneuve, global director of equity investment at Allianz Global Investors UK, told Bloomberg Television: "We are seeing the start of a capitulation and a big reset in pricing." She added: "Now the big question will be peak inflation."
On Wednesday, Walt Disney shares fell 4.8% in early trading after the media giant said growth in the second half of the year may be slower than expected. In addition, zoom Video Communications Inc. shares fell 3.9% after Piper Sandler downgraded the stock.
What's next to watch?
Here are the main events to watch this week:
Speech by San Francisco Fed Chair Mary Daley Thursday
US Producer Price Index, Initial Jobless Claims, Thursday
University of Michigan Consumer Sentiment, Friday
E-mini S&P 500 (ES) futures technical analysis: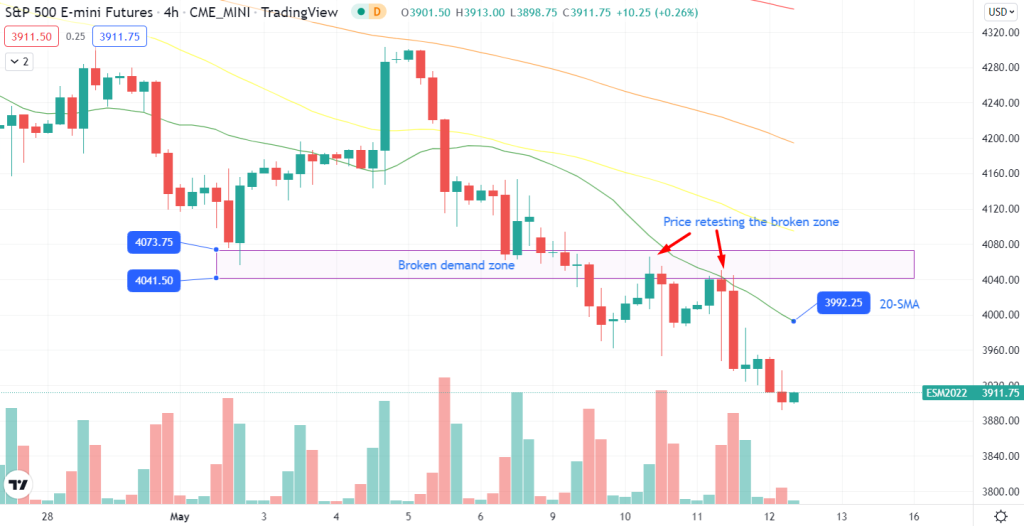 The 4-hour chart of E-mini S&P 500 (ES) futures shows a strong bearish trend. The strong demand zone was broken by the price. The index went up to retest the broken level and resumed the sell-off again. The price lies below the 20-period SMA, indicating the dominance of the sellers.