The US labor market remains tight with high demand for workers.
US Manufacturing PMI came in above 50 in August, showing steady growth.
Analysts expect the US dollar to keep rising, meaning lower prices for gold futures.
Gold (GC) futures prices continued to decline as the US dollar strengthened ahead of important payroll data anticipated this week. Data from the United States showed a robust economy, allowing the Federal Reserve more leeway to raise interest rates to combat inflation swiftly.
The US dollar strengthened after government data revealed that fewer Americans than usual last week filed new claims for unemployment benefits, which is consistent with a high demand for workers and a tight labor market.
As employment and new orders increased in August, according to data from the Institute for Supply Management (ISM), US manufacturing expanded steadily. This report supported the belief that inflation has likely peaked.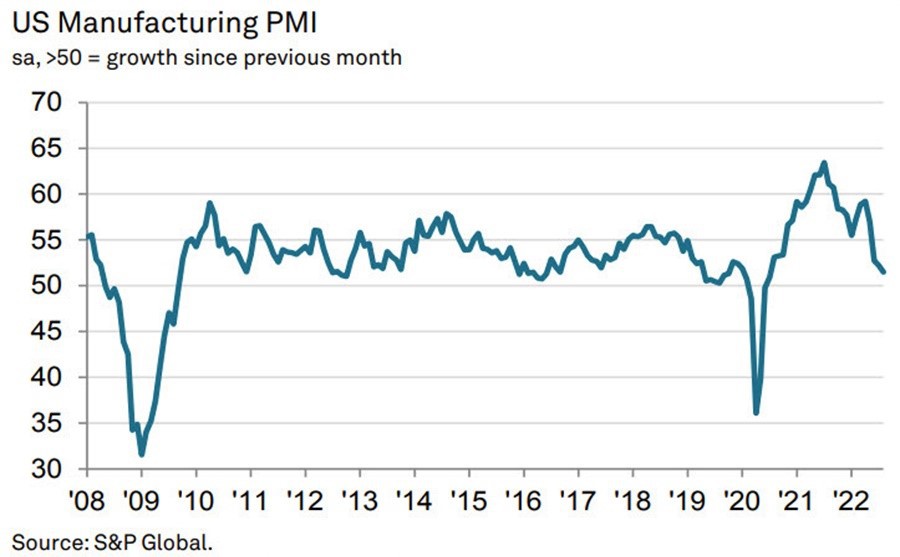 The US manufacturing PMI stayed above the 50 level in August. This sign of expansion points to a relatively healthy economy.
"It is no surprise that the dollar hit a fresh record high on both safe-haven flows. Global economic weakness and a resilient US economy pave the way for the Fed to remain aggressive," said Edward Moya, chief market analyst at Oanda.
Based on robust economic data, expectations are building for a third consecutive 75-basis-point US rate hike at the September 20–21 Fed meeting. Fed funds futures indicated a 77.1% likelihood of such an increase.
As a result, the yield on benchmark 10-year US Treasuries increased to 3.297, a level not seen in more than two months.
The market will now focus on the August nonfarm payrolls report, which is out on Friday and will be one of the critical data points influencing Fed members when they meet later this month.
The safe-haven dollar may see more demand if the reading is strong.
"Even after hitting fresh records, USD strength has scope to extend somewhat further, boosted by the global slowdown and the European energy crunch in particular," said Generali Insurance Asset Management analysts.
As the dollar rises, gold becomes more expensive for overseas buyers reducing demand. At the same time, rising interest rates in the US will likely keep gold prices down as the yellow metal has no yields. The outlook for gold futures, therefore, remains bearish.